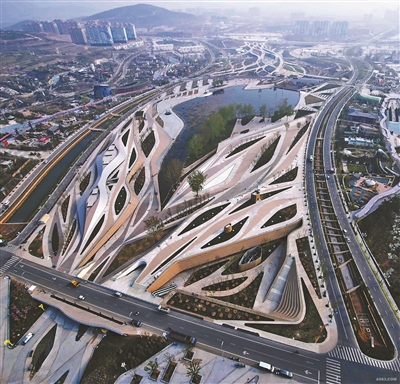 AS one of the key activities of the 13th Shenzhen Creative December, the awards ceremony of the eighth International Space Design Award, also known as Idea-Tops, was held in Longgang District, Shenzhen, on Dec. 6.
This year's Idea-Tops not only presented a spectacular dialogue among Chinese and Western design masters, first-class scholars and designers, but also invited renowned design heavyweights as judges, taking the evaluation criteria to a higher level.
It is reported that 6,698 pieces of works from nearly 40 countries and regions have participated in this year's Idea-Tops, covering 18 categories in architecture and interior design. It is particularly noteworthy that world-class multinational design firms like UN Studio have once again submitted their entries to the competition.
The jury selected 85 nominated works at each round from the perspectives of smart innovation, functionality, arts and humanities, as well as energy conservation and environmental protection. At the awards ceremony, a list of 17 best designs was debuted, on which there were three design companies from Shenzhen.
The organizing committee has also invited Martha Thorne to the Idea-Tops International Design Forum and the awards ceremony to give an elaborate keynote speech and have an in-depth talk with Chinese designers. Thorne is the executive director of the Pritzker Architecture Prize and dean in the architecture school at IE University in Madrid.
Over the past eight years, Idea-Tops has been striding forward at a steady pace in all aspects, whether it be the lineup of judges, evaluation of works and awards setting. It has been attaining mounting recognition from design maestros from home and abroad each year.
At present, the award has invited well-known professors and academic scholars from 22 first-rate universities, including Harvard University, Yale University, University of Cambridge, University of Oxford, Princeton University and University of Tokyo to become members of the academic committee, in hopes of boosting the development of the design industry.
"We will further improve the professional standards and theoretical system of Idea-Tops to spread the world's most cutting-edge design concepts and culture, and to promote exchanges and cooperation between Chinese designs and those from the world," said Zhao Qingxiang, executive chairman of Idea-Tops organizing committee.
As a design award that carries weight in the design community and industry, Idea-Tops has been held for three consecutive years in Longgang. Moreover, it has been reported that the headquarters of Idea-Tops is expected to settle in Dayun New Town this year.
Idea-Tops is an annual event co-organized by designer service platform A963.com and three famous academic institutions, including the Academy of Arts & Design of Tsinghua University, China Central Academy of Fine Arts and Tianjin Academy of Fine Arts. It is aimed to create the most thoughtful and influential design award in the global arena, and explore and recognize the best designers and works.
(Zhang Yu)