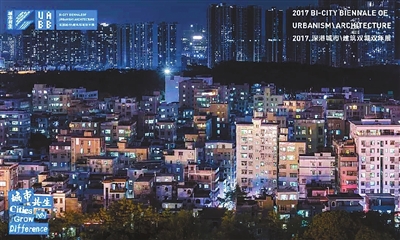 Zhang Yu
JeniZhang13@163.com
THEMED "Cities, Grow in Difference," the seventh Bi-City Biennale of UrbanismArchitecture (UABB) was officially open to the public Saturday, heralding a three-month exhibition that fuses architecture, art and design.
As the first biennale to ever take place in an urban village, this year's UABB (Shenzhen) represents a call for the development of a diverse, inclusive and vigorous urban ecosystem that not only shows reverence to humanity and history, but also seeks to promote the coexistence of urban culture, society and public spaces on various levels.
The biennale is jointly organized by curator and critic Hou Hanru and founding architectural partners of URBANUS Liu Xiaodu and Meng Yan. More than 200 exhibitors from over 25 countries have gathered at Nantou Old Town, the main venue of 2017 UABB (Shenzhen), exploring and reflecting on urban development within the context of globalization.
The decision to make Nantou Old Town the main venue fully demonstrates the core features of UABB, which aim to combine the historical and cultural resources with contemporary urban design concepts.
With over 1,700 years of history, Nantou Old Town has covered a vast area of present-day Hong Kong, Macao, Dongguan and Zhuhai since the Jin Dynasty (265-420). Today, it is a symbiosis of a historic old town, a typical urban village shaped by drastic urbanization and a dilapidated industrial area.
"The exhibition is not only concerned with urban villages, but also about the future of the city. It is not merely an exhibition, but also an attempt at an intervention representing a change of ideas," said Meng Yan at the opening ceremony held Friday.
The biennale will, by means of urban curation, envision brand new prospects for Nantou Old Town, i.e. a global and future-oriented paradigm of "coexistence." It will be implemented in tandem with Nantou Old Town's regeneration plan by implanting the exhibitions into residents' daily life and spreading them throughout streets and alleys, parks and squares, and residences and industrial buildings.
Under the overarching theme, three sections will be presented, namely Global South, Urban Village and Art Making City. In particular, in the Art Making City section, a series of urban art interventions will be conducted by the participants to organize varied social experiments with a strong emphasis on interaction and cooperation with local residents.
In addition, no less than 200 academic and public events on diversified topics and in the forms of forums, performances and workshops will be presented throughout the exhibition period.
Five subvenue exhibitions at Luohu, Yantian, Longhua (Shangwei and Dalang) along with Guangming New Area, and 14 other collateral exhibitions all over the city will also be concurrently launched to echo and supplement those at the main venue.
Consistently exploring the issue of urbanism and urbanization, UABB (Shenzhen) focuses on the urban agendas that are closely related to everyone. For the last 12 years, it has promoted the innovative development of local culture while gathering the world's top urban development experts and building an exchange platform for developing Shenzhen into a global and innovative city.
Dates: Until March 17, 2018
Hours: 10 a.m.-6 p.m. Tuesdays to Thursdays; 10 a.m.-8 p.m. Fridays to Sundays; closed Mondays
Tickets: Follow WeChat account "UABB-SZ" and send "T" via the chat window to receive a free e-ticket.
Main venue: Nantou Old Town, Nanshan District
Metro: Line 1, Taoyuan Station (桃园
站), Exit A/B