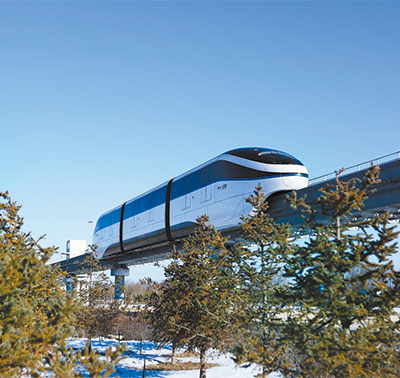 SKYRAIL, or Yungui in Chinese, the first driverless monorail transit system developed by Shenzhen-based BYD and telecom giant Huawei, was tested in Yinchuan, Northwest China's Ningxia Hui Autonomous Region, on Wednesday.
It is a rail transit alternative with benefits including low capital cost, short construction period and low noise levels, making it a short-term, cost-effective solution to traffic congestion.
The system is expected to be put into trial commercial operation in Yinchuan in the second quarter of this year.
SkyRail trains can automatically keep a safe distance from each other, detect malfunctions, monitor passenger flow and employ facial recognition.
Monorail trains run at a maximum speed of 80 km per hour. Compared to a subway system, an overground monorail costs less and is less noisy.
BYD claims SkyRail could be implemented at one-fifth the cost of a Metro line of the same length in one-third the construction time.
BYD has set up a research team with 1,000 members and invested 5 billion yuan (US$769.23 million) over the past five years into SkyRail, China's first straddle-type monorail system.
The SkyRail system in Yinchuan covers a 5.7-km route encompassing eight stations, although Yinchuan plans to extend the monorail network to more than 300 km over the next few years.
Since the announcement of the SkyRail system in October 2016, BYD has conducted feasibility studies in more than 100 cities, including the city of Iloilo in the Philippines, and has formed strategic partnerships with 20 cities in China, including Yinchuan, Guilin, Shantou, Guang'an and Bengbu.
Construction of SkyRail lines is expected to begin in 20 Chinese cities this year, with the 20-km SkyRail system in Iloilo, the Philippines, due to go into service in 2019. (Han Ximin)