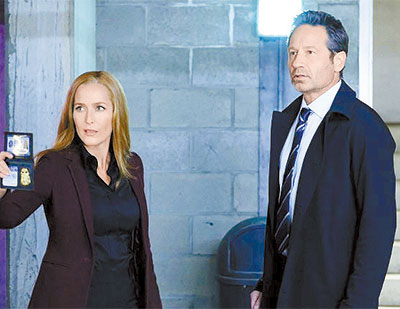 GILLIAN ANDERSON is finished with "The X-Files," the actress confirmed Wednesday during a panel organized as part of the Television Critics Association's winter press tour. Anderson said she originally intended to sign on for the six-episode revival in 2017. She also confirmed that she's walking away from Starz drama "American Gods" after showrunners Bryan Fuller and Michael Green quit the series.
"It's time for me to hang up Scully's hat. It just is," Anderson told reporters, ruling out any potential return in the future. "I'm finished, and that's the end of that."
As for "American Gods," she said: "I'm not doing any more 'American Gods.' Bryan and Michael aren't either, as has been announced." Fuller and Green decided to quit the series after clashing with producers over the show's season two budget.
As for "The X-Files," "I arrived at the decision before we did the previous six, but I was really curious. I felt that the previous six was going to be it. It was dipping our toe back in again and getting to play these wonderful characters again," Anderson said. "I think as series creator Chris Carter has said himself, that short stack of episodes felt like we were learning how to walk again and that this season of 10 feels like the pace is up and we're running."
She added, "I wouldn't necessarily have been happy if those six were how we said goodbye. There's lots of things that I want to do in my life and in my career and it's been an extraordinary opportunity and extraordinary character and I am hugely grateful."
For his part, co-star David Duchovny told reporters he would be "good either way" if the show continued without Anderson or if it ended after the current season.
"I've tried to say goodbye to Fox Mulder many times and I failed. And they all went and did the show without me, so how do you like that? I'm feeling pretty pissed off, now that I remember," Duchovny joked.
"The X-Files" ran on Fox from 1993 to 2002, and returned to Fox for a six-episode 10th season in 2017, billed as a limited event. "The X-Files" executive producers Darin Morgan, Glen Morgan and James Wong were on hand to discuss the 11th season and upcoming episodes.
(SD-Agencies)