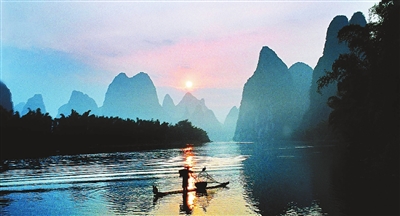 THE green crystal-clear water in the Lijiang River, the picturesque scenery, the beautiful Karst mountains, the light-hearted feel of West Street, and the other-worldly setting made famous by the movie "Avatar" no longer cost you a tiring eight-hour bus trip from Shenzhen.
Starting from Dec. 28, 2017, a direct high-speed train from Shenzhen to Yangshuo begins operation, taking only 2.5 hours for the whole trip. On any given weekend, you can hop onto the train as the mood arises and start an unusual adventure into enchanting Yangshuo.
Taking a bamboo raft ride down the Lijiang River is a very relaxing way to enjoy the highly scenic county. From the winding river's vantage point, you'll get stunning views of country life from a non-motorized raft in the traditional way.
Once you're on the bamboo raft sitting and enjoying the peaceful countryside, the limestone mountain and the beauty of this experience unfolds before you. Remember to take a picture with the 20-yuan note when you reach the landmark famously depicted on it.
Nestled at the foot of the mountains by the Lijiang River, time-honored Xingping Ancient Town is celebrated for its untouched natural scenery and ancient culture, and it boasts of being the most beautiful ancient town along the Lijang River.
Xingping Ancient Town is home to a number of cultural relics, which are mainly located on Xingping Ancient Street and the fishing villages. Here you'll encounter ancient ferries, pavilions, temples, bridges and civilian residences. The civilian residences have preserved their original appearance of white walls and blue tiles, and you can fully appreciate their historical authenticity when walking through them.
Bicycling in Yangshuo is also a nice choice for tourists. Ten-Mile Gallery is a picturesque road stretching from the Yangshuo town area to Moon Hill, endowed with rolling hills, endless fields, idyllic villages and clear rivers on both sides. It is a rather moderate route suitable for average backpackers, covering a total length of 20 kilometers.
Birds chirping all the way make the atmosphere merry. As the road is not too long and in good condition, most visitors choose to travel by bike so that they can stop every now and then to enjoy the roadside landscape and take photos.
Silver Cave, known as Yinzi Yan in Chinese, is one of the many typical Karst caves in the Guilin area. The cave was among the first batch of Karst caves in Guilin that were developed back in the 1990s and opened to the public, and is also the largest around the Guilin area at present.
Yangshuo, a magical place that has inspired millions of oil paintings and captured the imagination of artists and travelers for centuries, is sure to offer you serenity and beauty.
(Chen Xiaochun)