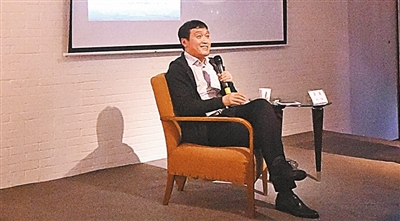 Cao Zhen
caozhen0806@126.com
HAVING moved to Shenzhen less than a month before, Wu Yan was annoyed to find that his apartment had many more cockroaches than his old home in Beijing. But on second thought, he decided to live with them peacefully. "If I cannot coexist with cockroaches, how can I live with aliens peacefully when one day I move to another planet in the future?"
Wu, a science fiction writer, researcher and professor at Beijing Normal University, has been hired by Southern University of Science and Technology in Shenzhen to teach sci-fi courses at its Humanities Center starting this year. His courses will be sci-fi writing, sci-fi movie appreciation and sci-fi research.
"Chinese science fiction is entering a 'golden age,' thanks to the rapid development of science and technology and support from the government. Since 2016, the China Association for Science and Technology has held the China Science Fiction Conference, the country's only State-level conference on science fiction, to promote sci-fi writing and movie production. Meanwhile, we also have the Chinese Nebula Awards hosted by the Chengdu-based World Chinese Science Fiction Association annually for Chinese-language works of science fiction," said Wu at a salon hosted by OCT Art and Design Gallery in Nanshan District on Jan. 7.
The growing popularity of science fiction came when Chinese sci-fi writer Liu Cixin won the Hugo Award in Best Novel for the first part of his "The Three-Body" trilogy in 2015. The trilogy, initially serialized in the Chinese magazine Science Fiction World, takes its title from a physics question in orbital mechanics and contains three intertwining plots, set respectively on Earth in the 1970s, in the mid-2000s and on a distant world in a three-sun system.
One year later, another Chinese sci-fi writer Hao Jingfang won the 2016 Hugo Award for Best Novelette for "Folding Beijing," depicting a future Beijing divided into three spaces based on inhabitants' wealth.
"I believe the next Chinese writer to win an international sci-fi award will be Han Song," said Wu. "Han writes darkly satirical novels and short stories which lampoon modern social problems. His narration is avant-garde and his themes are thought-provoking. He questions the fast development of the world which leads to weird and horrible things happening to humans. If Liu is discovering outer space, Han is digging the innermost of the world."
Like Liu, Han won several Chinese Galaxy Awards in the 1990s. Han's short story "Subway" features alien abductions and cannibalism on a never-ending train ride. "The Rebirth Brick" is about a kind of high-tech brick that is made up of earthquake debris, including human corpses. And his thrilling "Hospital" trilogy focuses on the doctor-patient relationship with the advent of artificial intelligence.
Although there's a rising obsession for science fiction in China, Wu said that many Chinese readers lack understanding of this genre. "Some readers only regard novels dealing with science and technology as 'real' science fiction. They don't know that those with social system elements, such as Hao's 'Folding Beijing,' Adlous Huxley's 'Brave New World' and George Orwell's '1984,' are also science fictions." He noted that the number of sci-fi writers in China is still too small and that it will take time to cultivate the literature.
Wu has been publishing sci-fi novels and short stories since 1991 and has won the Chinese Galaxy Award three times. In recent years, he has mainly engaged in education and research. He occasionally organizes workshops of sci-fi writing and tours to hi-tech companies for budding writers.
At the Shenzhen lecture, he reviewed the history of science fiction in China, saying that every time there has been a surge in sci-fi popularity, there was also a science rejuvenation called for by the government.
According to his research, in the late Qing Dynasty (1644-1911), science fiction was initially introduced through translations of Western authors by proponents of Western-style modernization, such as Liang Qichao, as a tool to spur technological innovation and scientific progress. With the publishing of the Chinese translation of Camille Flammarion's "The End of the World" in his magazine in 1902, Liang became one of the first and most influential advocates of Chinese science fiction.
In 1903, Lu Xun, who later became famous for his darkly satirical essays and short stories, translated Jules Verne's "Journey to the Center of the Earth" from Japanese into Chinese. In 1932, writer Lao She employed science fiction for the purpose of social criticism in his sci-fi novel "Cat Country," depicting a planet of cats.
After the founding of the People's Republic of China in 1949, many original works were created to popularize science among youngsters. Zheng Wenguang in particular is known as the "father of Chinese science fiction." And with the proclamation that "the spring of science has come" in 1978, a greater enthusiasm for popular science and science fiction followed. Thousands of short stories and novels were published not only in sci-fi magazines but also on major literature magazines and national newspapers, with Ye Yonglie as the most prolific writer.
In the 1990s, many authors came to prominence after publishing their works in Science Fiction World magazine which had reached a peak circulation of about 400,000 in the mid-1990s. Liu, Han and Wang Jinkang became popularly known as the "three generals of Chinese sci-fi."
Wu said that humankind's knowledge of the real world is far from the whole universe, so humans should free themselves from the limitations of the objective world and their experience. "Science fiction deals with the reaction of human beings to changes in science and technology and the possible future. If there are 100 possibilities for the future, science fiction will help us cope with the 101st possibility."