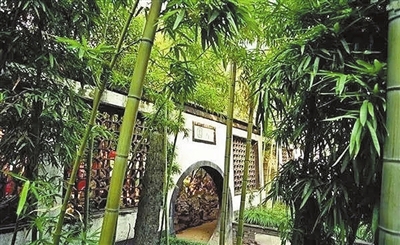 ZHOU LI walked into the Qingguo bookstore, decorated in the style of an ancient Chinese garden, ordered a drink and spent a relaxing afternoon sitting there reading a book.
"I will have dinner here later," Zhou says.
She found out about the fancy bookstore from photos her friends shared on social networking platforms. She also went there last week with her good friend, not to read or buy books, but to take some selfies.
The cafe-style bookstore, decorated with bamboo, old bricks and tiles, is situated in a corner of the Xinhua Bookstore in Changzhou city, Jiangsu Province, attracting customers at a time when brick-and-mortar bookstores are losing out to digital reading and online shopping.
Zhu Jingtao, manager of Qingguo, said the bookstore targets young readers aged 20 to 40. Besides books and a range of food options, the store also hosts art salons and readings.
During 2017, Qingguo's sales volume from selling books nearly equaled that of its other offerings.
Founded in 1937 in Yan'an of Northwest China's Shaanxi Province, the base of the Communist Party of China in revolutionary times, Xinhua Bookstore was once the largest State-run publisher in China.
The four Chinese characters "Xin Hua Shu Dian" on the signboards of Xinhua bookstores, written by Chairman Mao Zedong in the 1940s, form a collective memory for generations of Chinese readers.
Decades ago, Xinhua was the only choice for book buyers in many Chinese cities. These four characters have become a cultural symbol.
However, the rise of e-commerce and private bookstores that put more emphasis on customer experience have overshadowed the Xinhua bookstores, which are getting lonely and desolate, evoking a sense of sad nostalgia.
Unyielding to the changing times, the old publishing giant is exploring new avenues. In Baoding City of Hebei Province, a Xinhua Bookstore with the theme "fresh air" opened last year. The building, featuring hollowed-out wooden walls that are open to light, has become a much-loved spot in the city.
Inside the store are large and comfortable reading spaces as well as coffee and tea houses. The store is called "the most beautiful bookstore" by some due to the idyllic atmosphere it creates.
In Northeast China's Heilongjiang Province that borders Russia to the north, a Xinhua Bookstore in Mudanjiang City was renovated into a China-Russia communication platform where a large quantity of Russian language books are available and cultural gatherings involving Chinese and Russian readers are held once in a while.
"Many Russian students studying here would come to read or even paint in the bookstore sometimes," general manager of the store Che Jun said.
Magnetized by the promise of booming e-commerce, Xinhua has turned to the virtual world to expand its businesses.
Changzhou Xinhua Bookstore established an e-commerce department at the beginning of 2013.
Luo Kai with the e-commerce department still remembers how thrilled he and his colleagues were when receiving the first order.
"Several of us volunteered to drive to deliver that book together," he says.
However, the online business was not as good as they expected. For quite a long time, the store only received three to four orders a day.
Inspired by other online sellers, they cooperated with a popular writer who was going to publish a new book, asking her to post the link of the store on her Sina Weibo account.
The bookstore received the order of over 1,000 books in the following three days, prompting the store to start doing promotions targeting newly-acquired online buyers.
The Changzhou store has seen its sales volume exceeding 400 million yuan (US$61.5 million) in 2017, ranking the first among all Xinhua chain stores in the 13 major cities in the province.
"We should not just sit there blaming others for changing habits in reading and consumption," said He Zhifeng, general manager of the Changzhou store.
"Sometimes it only takes a change of mind, and we gain a fresh start," he says.
(Xinhua)