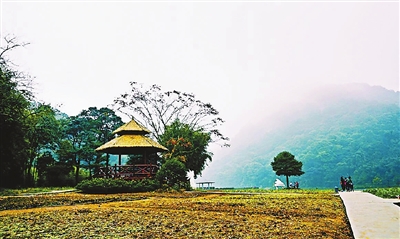 WHEN autumn or winter comes, your friends from northern China probably bombard your WeChat Moments with photos of mountains saturated with golden autumnal glory, and amber leaves falling from trees and covering walkways with a gilded carpet. Don't feel too envious, though — you can also enjoy fall foliage right at your doorstep.
Conghua Shimen National Forest Park, located about one and a half hours northeast of Guangzhou and approximately three hours from Shenzhen, is known for its red leaf-encased mountains. Starting from late December, as temperatures drop, mother nature dyes the leaves here into a warm red color.
Besides the red leaves, it's also home to 200,000-mu plum trees, which are in full bloom in mid-winter. The place is called Shimen Xiangxue (literally "Shimen fragrant snow") because the blossoms create an illusion of snow as petals shower down from branches when the wind blows.
Many young ladies take advantage of the timeless scenery by dressing up in Han Chinese clothing and taking pictures in the plum blossom forest. You'll probably feel like you've traveled back in time to ancient China if you stumble upon such a scene.
Locals usually flock to Shimen National Forest Park for their fall holiday trips. The park, home to the last remaining secondary forest in South China, has 494.2 acres of trees with red autumnal leaves, and embraces features of a south subtropical zone. It mainly contains three categories of trees, namely maple, excoecaria and red maple, which mostly grow in the park's pastoral areas, Shimen Scenic Area and Shizao Scenic Area.
These are also the park's best sightseeing spots, providing a wide-ranging view of the red mountainsides. In the Shimen Scenic Area, a waterscape reflecting the red leaves in the distance can be seen. Moreover, along with the broadleaf evergreen are another 10 categories of red leaves that multiply each other's radiance and beauty, thus forming unique scenery in the southland.
Red Maple Lake is the best place for appreciating Guangdong's fall scenery. Many shutterbugs can be seen here throughout the year. The picturesque lake is always teeming with couples having their wedding photos taken.
After the Red Maple Lake you will reach a brilliant sea of flowers that beckons you to jump into and run through it.
The park is also home to a canola flower field at over 1,000 meters above sea level, which is said to be the canola flower field at the highest altitude in Guangdong. Now is not the season for the flower, but do expect it in one or two months.
Don't forget to treat yourself to a mineral-rich natural hot spring bath in the chilly winter, because the park lies in Wenquan Town (Hot Springs Town) in Conghua and there are many hot spring resorts nearby.
Conghua is one of the few places where you can find sodium bicarbonate hot springs, the rock star of hot springs. Its unique effect on all sorts of ailments ranging from rheumatic arthritis, skin diseases, neurasthenia, and the common cold makes it a favorite of the body-conscious. It clears away excess natural skin oils, promotes liver vitality, and promotes beautification not only on the surface skin but from the inside of the body as well.
There's absolutely nothing to do in Hot Springs Town except, you guessed it, lounge in revitalizing mineral water, so hibernating in your hotel room all weekend won't bring pangs of guilt.
Add: Shimen National Forest Park, Wenquan Town, Conghua, Guangzhou (广东省广州市从化温泉镇石门国家森林公园)
Ticket: Around 40 yuan
Transportation: Take a bus from any district coach station in Shenzhen to Conghua Bus Station (Jiekou), then take the Jiekou-Dalingshan bus and you'll reach the foot of the mountain.