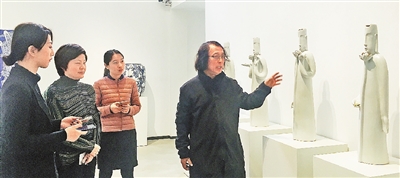 Cathy Mo
865068803@qq.com
VIEWERS at an ongoing ceramic art show at J Space can witness the crossover of Chinese ceramics into the realm of sculpture, installation and even painting, a new twist on their traditional forms as containers or vessels.
"The Eastern Again," a presentation of contemporary ceramic art, showcases some 50 innovative works by 19 Chinese artists, whose practices have merged tradition with "contemporaneity," craft and fine art.
With an aim to showcase China's current explorations in ceramic art — "the new oriental china" as it is called by Chinese artists when compared withage-old Chinese ceramic art, organizers of the exhibition selected works by artists who are recognized for reshaping tradition based on the oriental culture they inherited . At the same time, they also incorporate various Western art languages. Therefore these artists are neither simply passing down an ancient tradition nor blindly applying Western art concepts and norms.
The meaning behind the cryptic theme "The Eastern Again" is to call for introspection and a reshaping of oriental ceramic art.
"China has a brilliant history of making pottery and porcelain wares, and the art reached its climax in the Ming (1368-1644) and Qing (1644-1911) eras. However, contemporary ceramic art has been developing rapidly over the past decades in other countries such as Japan, which bears distinctive oriental characteristics," said Dai Yuxiang, professor of the ceramics department of China Academy of Art, on Saturday.
Starting around 1985, contemporary concepts of art came to China and contemporary ceramic art has been well promoted over the past 10 years. "I believe we now have the confidence to communicate with our Western counterparts in this field and it's time to reconsider what new oriental art means and how to revive and reshape the tradition. The Westerners have their own cultural spirit and aesthetic standard while we Chinese have our own. We should explore our own concept and system," he said.
For centuries, traditional Chinese ceramics had often been objects for daily use instead of creative art works, and were produced by anonymous artisans at various lowkey kilns.
In the 1990s, Chinese ceramicists began to adopt the Western concept of "studio artists," whose works are individual rather than unnamed. Many young artists have been influenced by Western art concepts and often emphasize distorted shapes and striking visual effects in their works. Some, besides keeping Chinese elements, have also added a social dimension to their works, going beyond their form and developing their concepts as reflections of contemporary issues.
Dai, who was born in Jiangxi Province's Jingdezhen, China's ceramics capital, is the academic director of the show. He brought three works to the exhibition, two of which were pottery plates named "The Empty•Joyful" and "The Empty•Signal." Their surfaces are rather rough and big, with striking holes delivering a strong visual impact. Although the art language is Westernized, his theme is about the vast and boundless universe and the theory that man is an integral part of nature, an ancient Chinese philosophy.
In the "Empty" sculptural figures series, Zhu Legeng, president of the Literature and Art Creation Institute of Chinese National Academy of Arts, uses matte white instead of the traditional lustrous white glaze, making the surfaces of his lusterless lotus-holding Buddhist figures as calm, mild, elegant and smooth as white jade, which well-illustrates the artist's Zen mood.
The exhibition is co-organized by the Ceramic Art Department of China Academy of Art, the Fine Arts Department of Jingdezhen Ceramic Institute, Ceramic Art and J Space.
"Antique Chinese porcelain lots often fetch huge sums of money at international auctions but it is quite a different picture for contemporary Chinese ceramics. Our purpose is to help promote the art form by providing resources and a platform for excellent ceramicists to explore the market," said Ning Xiaoqin, general manager of the Ceramic Art company in Zhuhai.
The Eastern Again
Time: 10 a.m. - 6 p.m., through Feb. 10
Venue: J Space, Building C-8, Wenchang Street, North Area, OCT-LOFT, Nanshan District (南山区华侨城创意文化园北区文昌街C-8栋)
Metro: Line 2, Qiaocheng North Station (侨城北站), Exit B or Line 1, Qiaocheng East Station (侨城东站), Exit A
Tel: 18938917301