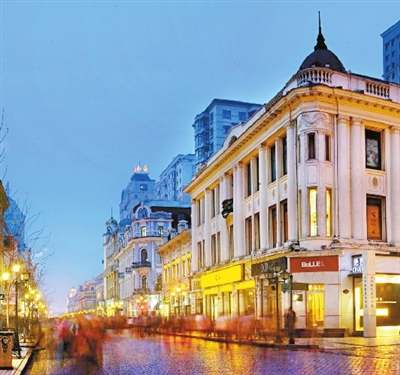 CHINA enters the list of top 10 countries for travel with the newly released list in Lonely Planet's Best in Travel 2018. With its stunning scenery, mysterious history, highly-connected bullet-train network and wholly-upgraded tourist attractions, China is drawing the attention of more and more international travelers.
China, a country endowed with vast swaths of land and rich culture, is definitely worthy of exploration. Truly dig into and experience what it has to offer, you will be charmed by the country.
There are many places in China that are worth visiting, and we will share with you 10 places which may give you a feeling of being at once within China and elsewhere.
Central Street or Russia?
Harbin is a city deeply influenced by European culture and often called "Oriental Moscow" or "Oriental Paris." Central Street is the best miniature of the city that features different styles of European architecture and cultural integration.
Sometimes even Russians who come to Harbin on business don't feel that they are in another country when walking down Central Street; this is because the street was originally part of the town built by Russians about 110 years ago.
The street features Russian-made goods such as furs, souvenirs, imported vodka, Russian dolls and chocolate, Russian restaurants and a choice of international cuisines, and interesting old architecture of various styles.
Tips: The representative architectures include the Education Bookstore (the biggest of Baroque as well as the hallmark of Central Street), the Mod-Er Hotel (formerly the Modern Hotel built in 1906) and the Daoli Qiulin Shop (built in 1919).
Chaka Salt Lake or Bolivia's Mirror of the Sky?
You must have seen similar pictures posted on your WeChat Moments: A person stands in the middle of a vast lake in which you can see his reflection, while the endless sky and water merge into each other in such a distorting way that it almost makes you feel like you've entered into a two-dimensional space.
Pictures like this may be taken in Salar de Uyuni in Bolivia which is dubbed "Mirror of the Sky," or, they may have been taken at Chaka Salt Lake in Qinghai Province, which is rather near if compared with Bolivia.
Nicknamed "China's mirror of the sky," Chaka Salt Lake is rated by Chinese National Geography as one of the 55 must-visit places in your lifetime. It reopened in May last year after upgrading and reconstruction. But due to poor transportation, most people have yet to witness its charm.
People in Guangdong can take a direct high-speed train linking Guangzhou and Lanzhou which takes less than 10 hours, making the trip to "China's mirror of the sky" much more convenient.
Maybe some of you remember the scene where a train travels through water in Hayao Miyazaki's "Spirited Away." If you come to Chaka Salt Lake, you will see the real-life version: There's a train that travels through shallow water like in a whimsy tale.
Tips: The best time for visiting the salt lake is summer and autumn when the weather is nice and the lake is crystal clear.
Shanghai or France?
"Paris of the East" was another nickname for Shanghai before it was given the name "Magic City." At the beginning of last century, the concession history injected some French elements into Shanghai. The French-style houses built by French heavyweights with large sums of money are still preserved intact and old nostalgia-laden sycamore trees take their root here, adding a touch of French vibes to the Shanghai-style elegance.
Nowadays, many French deem Shanghai as their second hometown. In the French-style villa of Shanghai French Concession, you will probably encounter bistros where all dishes and chefs come from the same place of origin.
Against a background of neo-classic carved pillars, rustic sycamores in the mid-ground and the "new Shanghainese" with blonde hair and blue eyes as the foreground a common scene in this neighborhood, you'll definitely manage to take a nice picture with your phone.
Then, just sit down and get ready for an authentic French meal.
Tips: Shanghai French Concession is located between Huangpu District and Xuhui District. To find the typical area, you can dig into Huaihai Road West. (Chen Xiaochun)