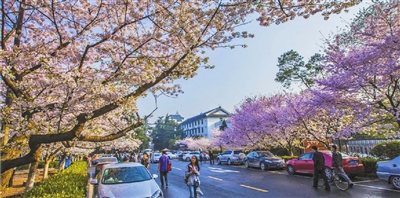 CHINA entered the list of the top-10 countries to travel to in Lonely Planet's newly released "Best in Travel 2018." With its stunning scenery, mysterious history, highly-connected bullet-train network and wholly-upgraded tourist destinations, China is drawing the attention of more and more international travelers.
And as a country endowed with vast swaths of land and rich culture, China is definitely worthy of exploration. By truly digging into and experiencing what it has to offer, you will be charmed by the highly-experiential nation, and in some cases, even feel that you are simultaneously visiting another land.
There are many places in China that are worth visiting, and we will share with you the 10 places that are most promising to lend you a sense of being at once within China and elsewhere.
Wuhan University or Japan?
If you have no extra time or money for an extensive tour of Japan for cherry blossom sightings, you can go to Wuhan University. Every spring, Wuhan University is an ocean of cherry blossoms in bloom. On the campus of Wuhan University more than 1,000 cherry trees of about 10 different varieties were planted, giving way to a fragrant crossover into Japan.
Thanks to the romantic feel of cherry blossoms at Wuhan University, the once not-so-popular tourist destination Wuhan now tops spring travel guides. Pictures show tourists flocking to the university for its annual cherry blossom season.
When the pink pointed buds unfurl on bare thin branches alongside leaves stenciled with a paler green around the edges, it heralds the onset of a vibrant spring and turns the university into a pale pink and white meadow.
To ensure the smooth continuation of campus life for students, the university has created an online booking system that allows visitors to sign up to view the cherry blossoms, controlling the number of guests on-site at a time and preserving a placid experience for everyone.
Tips: If you fail to book a ticket, you can visit the campus after 6 p.m. The cherry blossoms also look charming in the late evening when visitors are most scarce.
Lake Nuoertu or the Dead Sea?
If you want to float in water without knowing how to swim, lay back, relax and enjoy this amazing natural phenomenon. There is no need to spend thousands of yuan on plane tickets and travel all the way to the Dead Sea because a lake here in China can satisfy your small dream.
Badain Jaran Desert in Inner Mongolia is home to over 100 spring-fed lakes that lie between vast sand dunes, some of which are fresh water while others are extremely saline. Lake Nuoertu, one of the largest and deepest lakes of the desert, is nestled against a large dune and definitely the twin sister of the Dead Sea.
The lake, as deep as 30 meters in some places, is extremely saline. It is the only lake in the Badain Jaran Desert that can provide the magical experience of effortless floating on its surface like the Dead Sea. To this day, an official tourist site has yet to be set up at the lake, which may make it a bit difficult to locate, especially since all the hundreds of lakes in the surrounding area are similar in appearance.
Tips: Lake Nuoertu is located inside the Alxa Desert Geopark and is one of the stops along the tour route around the Badain Jaran Desert.
Mountains in Sichuan or an
alien planet?
If you cannot cover the costs for a future tour to an alien planet, just come and check out Haizi Mountain and Tu'er Mountain in Sichuan Province. This amazing scenic area boasts unmatched natural beauty and it is a mandatory stop for all visitors to Daocheng County.
The meaning of Haizi is "lake" in Mandarin. Haizi Mountain is a provincial nature reserve in Sichuan. There are many different sizes of granite boulders and a lot of glacial rock basin of various shapes. Haizi Mountain is located between Daocheng County and Litang County with an average elevation of 4,500 meters. The highest peak is at 5,020 meters and there is a total of 1,145 lakes.
The scale and density of Haizi is unique in the country. The scenic area is also famous for its "magic stone." People are always amazed at and attracted by the mysterious and magical aura of the scenic area.
Tu'er Mountain is named so because of its unusual shape, bearing an uncanny resemblance to two small rabbit ears poking out of the earth. The rabbit ears can be clearly seen on sunny days. It paints the picture of a rabbit scurrying away from a predator. Surrounding the mountain are precipitous needle karst formations and crystal clear lakes.
Tips: There are many bends on the roads to Haizi Mountain and Tu'er Mountain, so do be careful when driving here.
(Chen Xiaochun)