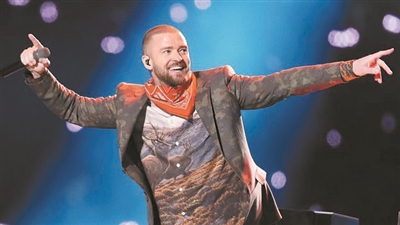 POP star Justin Timberlake paid tribute to Prince and took selfies with fans during his Super Bowl half-time show.
The singer performed "I Would Die 4 U" during a hit-packed, 12-minute set in Minneapolis — Prince's home town.
Timberlake also ran into the crowd to dance and pose for photos, in an unfailingly energetic appearance.
And he tacitly acknowledged his last Super Bowl performance in 2004, which ended with Janet Jackson's infamous "wardrobe malfunction."
On that occasion, he ripped a panel off Jackson's bodice, revealing her right breast as he sang the lyric "gonna have you naked by the end of this song."
When he reached that line Sunday night, Timberlake stopped the music and cut to another song. The gesture is unlikely to have impressed Jackson's fans — who still resent the fact that her career was derailed by the incident, while Timberlake emerged relatively unscathed.
Ahead of the show, the hashtag "Justice for Janet" trended on Twitter, in the hope Timberlake would invite her back — but Jackson shut down that speculation earlier Sunday.
Instead, Timberlake's show (broadcast on a five-second delay that was instigated after the 2004 Super Bowl) was largely controversy-free.
His most divisive move was probably the decision to wear a shirt featuring a photograph of two caribou, which looked less like a stage outfit than your computer's desktop wallpaper.
Still, Timberlake's whip-crack choreography was so impressive it took a couple of minutes for the true horror of his outfit to truly sink in.
He started the show backstage, performing his current single, "Filthy," before dancing down an elevated walkway to the center of the stadium.
Zipping through 12 songs in as many minutes, the 37-year-old showed off his enviable back catalogue — from the pop-funk of "SexyBack" to the robo-ballad "Cry Me a River," into which he dropped elements of "Led Zeppelin's Kashmir."
"Suit and Tie" was performed with a marching band, while Timberlake sat at a piano to play his Prince tribute.
(SD-Agencies)