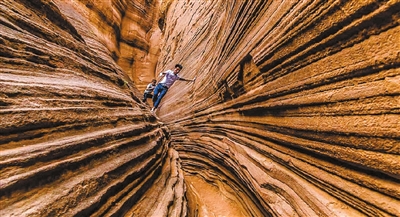 Jinghong or Thailand?
In the midst of watching Dai girls dancing at the Manting Imperial Garden, appreciating a night view at the impressive golden pagoda in Jiangbei and launching a Kongming Lantern, or tasting worms in the barbecue night market, you may momentarily wonder whether you are in China or Southeast Asia.
Jinghong is a city in the seat of Xishuangbanna Dai Autonomous Prefecture in the deep south of China's Yunnan Province. Anyone who has been to Jinghong would have to notice that most of the buildings resemble the design of Thai temples.
Nowadays, Jinghong is becoming more and more Thai-style, for it feeds itself with many Thai elements including its most commercial areas and popular tourist sites, which are modeled after the stunning Bangkok Old City, Rattanakosin.
Tips: Jinghong is a hub for Chinese package tours as well as for travelers passing between China and Laos. A prime area for backpackers, it is an interesting alternative to Laos or northern Thailand.
Xinjiang or Central Asia?
The west Asian landscape is divided by deserts and grasslands, whose unique tonality and customs extend all the way to the Mediterranean Sea. If you were to tramp over the Tianshan Mountains and enter South Xinjiang, you would immediately be embraced by a strikingly different culture.
With sand blown by the wind making deserts everywhere, southern Xinjiang has dry weather and severe water scarcity, so the land here is arid and mostly barren. But wherever you go, the fragrance of barbecued meat and crusty pancakes will fill your nostrils, making your mouth water in the dry climate. Here you're sure to cross a mosque whenever you take a stroll around.
The majority people here are the Uygur minority. Uygurs are a Turkic group of people with a look distinctly different from ethnic Han. Some have very angular features with deep eye sockets and sharp noses.
You may get invited into a home as a guest when you pass through the yurts of ethnic Kyrgyz. A shot of exotic feelings will invade your senses as you wander around the Kashgar old town where the Islamic-style constructions are mostly made of earth and wood and explore the local bazaar where you are surrounded by natives with beards and turban.
Tips: Kashgar Prefecture is the most recommended tourism site in South Xinjiang for its exotic feel. In addition, you can visit Kuqa County and Tajik Autonomous County of Taxkorgan nearby.
The Wave in Jingbian
or Arizona?
The Wave is a sandstone rock formation located southeast of Longzhou Town, Jingbian County of northwest China's Shaanxi Province. Similar to The Wave in Arizona in the United States, the unique landform in China also attracts numerous visitors.
The Wave in China is called Longzhou Canyon and enjoys a history of 60 million years. The Longzhou Canyon is famous among hikers and photographers for its colorful, undulating forms and the rugged, trackless hike required to reach it.
Tips: Hotels in the town contain photo collections of The Wave. You can locate the best spots for shooting according to hotel photo guides. The best time for shooting is before 9 o'clock in the morning or after 3 o'clock in the afternoon.
(Chen Xiaochun)