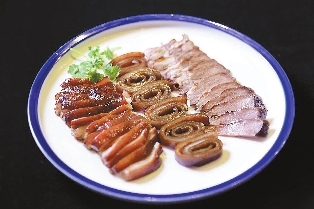 Chen Xiaochun
654789759@qq.com
CHAOSHAN cuisine, also known as Teochew cuisine, is one of the top must-eats for foodies across China. It originated from the Chaoshan region in the eastern part of China's Guangdong Province, which includes the cities of Chaozhou, Shantou and Jieyang. The food in this area has stayed true to its roots over time, thus becoming a boon for the flavor-minded.
The most famous culinary method in this region is marinated broth stew, where poultry (especially local geese) and other meat are slow cooked in a highly flavored broth.
The succulent and slick goose meat, rich-tasting goose wings, fresh yellow croaker with famous Puning soya bean sauce, seaweed soup with beef and fish balls — you name it, it all keeps excellent, authentic flavor because they are all shipped to Chaoshan restaurants such as Xi'e (Happy Goose) Restaurant in Jinfeng Town, Luohu District every day directly from the time-honored brand's shops in Chaoshan.
"The essence of Chaoshan cuisine lies in its fresh produce and original taste without adding too much seasoning," said Nie Yi, owner of the restaurant.
The lion-head goose comes from the restaurant's own breeding farm and is delivered to the restaurant every day. The combination of salt water, fresh water and other natural advantages of the area together give birth to the fat goose with pliable meat. A meticulously-made menu is always drawing in a steady flow of food connoisseurs. The marinated broth stew for making the goose, consisting of over 10 types of ingredients and enjoys a history of 40 years.
In addition to goose livers, goose palms, goose wings, goose intestine and goose meat, their Chaoshan assorted snack dishes include the steamed dumpling "fenguo," Puning fried tofu and yellow croaker, all sure to cure the homesickness of Chaoshan guests.