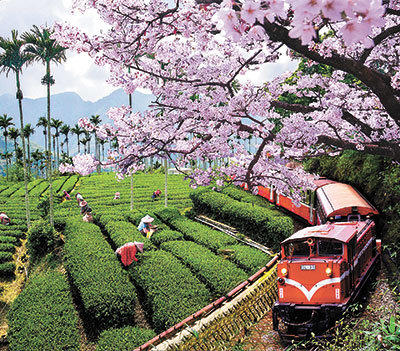 THE week-long Spring Festival holiday has just ended, and people from all across China enjoyed it in a great variety of ways. But for those who still have some annual leave in store, February is a quiet time for traveling across the country, making for a less-crowded and relaxing trip.
China in February is like a spilled palette of snow, flower blossoms, mountains, water and ancient villages converging together onto one canvas. It's hard to describe the magnificent beauty of this vast country in just a few words. Today we have listed five places in China where you can appreciate the unfurling of floral glory this month.
Yongfu, Fujian
Yongfu, dubbed "the Alishan Mountain of the mainland" after the famous mountain in Taiwan, is located in Zhangping City, Southeast China's Fujian Province, and is embraced by picturesque scenery. While it is still snowing in North China, the cherry blossoms here are already in bloom and awaiting visitors.
Different varieties of cherry blossoms open at different times. The blooming of the first blossoms was in January, and the last of the blossoms will remain till the end of March. To experience the embrace of a mountain of cherry blossoms, don't forget Yongfu.
With the bright sunshine over head, kids will be having fun under the soft canopies, lovers will be strolling hand-in-hand, and the elderly will be showing a kind smile — all this will add a touch of happiness to your mood.
Add: Houyu Village, Yongfu Town, Zhangping City, Fujian (福建漳平市永福镇后盂村)
Best time for appreciating the blossom: Late January to mid-March every year
Transport: Take a high-speed rail train from Shenzhen North Railway Station to Longyan. Take a taxi to the destination.
Wuyuan, Jiangxi
The county of Wuyuan in Jiangxi Province possesses great natural beauty and is famous for gorgeous, vast fields of yellow canola flowers. In early spring, the fields and hillside terraces of Wuyuan County turn totally yellow with blooming canola flowers, adding to the already serene and pastoral beauty of the area.
There are many small villages in Wuyuan area, and many of these house temples and other well-preserved ancient architecture. Villagers still emulate a laidback way of life. It's recommended to visit several villages, including the notable Yancun and Yantian.
Add: Wuyuan County, Shangrao City, Jiangxi Province 江西省上饶市婺源县
Transport: Take a train from Shenzhen Railway Station to Jingdezhen, then take a bus to Wuyuan.
Wengyuan, Guangdong
With Sanhua plum blossom and Jiuxian peach blossom, Wengyuan in early spring awaits you with 33 squar kilometers of white plum blossom trees, giving the effect of drifting snow as the petals break loose from branches and descend upon visitors. The pure white plum blossoms lingering around the mountain dotted with pink peach blossoms announce the prospect of a coming warm spring.
Wengyuan is a county in northern Guangdong Province, bordering Jiangxi to the northeast. It is under the administration of Shaoguan City.
Add: Sanhua Town, Wengyuan, Shaoguan, Guangdong 广东省韶关翁源三华镇
Transport: Take a high-speed train from Shenzhen North Railway Station or Futian Railway Station to Shaoguan, then take a bus from Shaoguan to Sanhua Town, which takes around 1.5 hours.
Nearby sites: Donghua Temple, Xinba Hakka houses
Luoping, Yunnan
Located in the eastern part of Yunnan, Luoping County is known as "the oil depot of eastern Yunnan." Starting from February, 533 square kilometers of canola flowers start to bloom and last till mid-March, turning it into one of the most beautiful places in the world and a nice choice for travelers and shutterbugs.
There are different types of canola flowers in Luoping. Those who enjoy climbing high and taking pictures from above can scale to the Jinji Peak cluster; those who prefer ground-level shots can explore the terrace-like Luosi Field. And for those who want to see canola flowers up close, Luoping Bazi is a nice choice.
Add: Luoping County, Qujing City, Yunnan 云南省曲靖市罗平县
Transport: Take a high-speed train from Shenzhen North Railway Station to Kunming South Railway Station, then take a train from Kunming to Luoping.
Alishan Forest, Taiwan
Known for its pillowy clouds, spectacular sunrises, glowing sunsets, enchanting forests and charming railway routes, it's no wonder Alishan is a popular day (or weekend) trip for tourists and locals like.
Located in Chiayi County, Taiwan, Alishan Forest is located at an altitude of over 2,000 meters. The Alishan Cherry Blossom Festival is one of Taiwan's most popular flower festivals as the area is densely covered by more than 19,000 cherry trees, about 18,000 of which are Yoshino cherry trees, making Alishan the only and the largest area of Yoshino cherry trees in Taiwan. All visitors will find themselves in a world of romance, mesmerized by pink and white cherry blossoms during their trip to Alishan.
Add: Alishan National Scenic Area, Alishan Township, Chiayi County, Taiwan 台湾省嘉义市阿里山
Transport: Take a flight from Shenzhen Bao'an International Airport to Taipei Taoyuan International Airport. Take a high-speed train from Taoyuan to Chiayi and then take a bus to the destination.
(Chen Xiaochun)