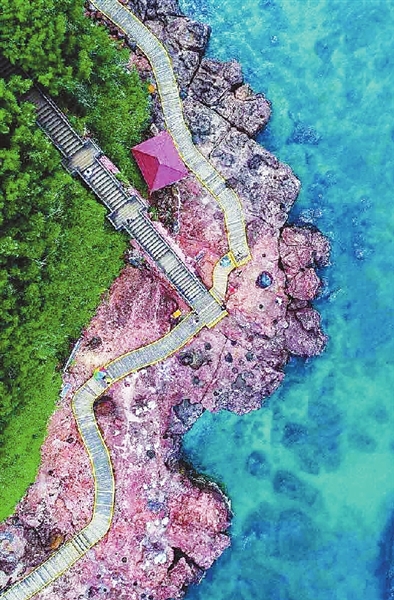 MARCH is when the cold starts to let up and much of the country finally gets signs of warm weather. For travelers who are still recovering from a stressful 2017, there may be no better way to spend a March weekend than by getting outdoors and checking out seasonal destinations. Here's a round-up of places that are at their prime in March.
Weizhou Island, Guangxi
Weizhou Island of Beihai City is China's youngest volcanic island as well as Guangxi's largest, known by all as one of the 10 most beautiful islands in China.
From above, the island looks like jade floating in the ocean. The vegetation covering the island is typical of that for a volcanic sediment-based soil. The scenery is endowed with an abundance of natural marine life, the rich, fertile volcanic matter surrounding the island having birthed a brilliant and colorful plume of coral reefs.
The scenery on the island is magnificent. Besides the sights, there are famous attractions such as a time-honored Catholic church that was built from the island's special coral rock with brown sugar and a glutinous type of stick instead of cement.
Add: Weizhou Island of Beihai City, Guangxi Zhuang Autonomous Region
(广西壮族自治区北海市南北部湾海域)
Transport: Take a train from Shenzhen North Railway Station to Nanning East Railway Station, then take a train to Beihai. Then take a bus from Beibuwan Square to Yintan where you can take a boat to reach the island.
Tips: Admission to the island is 120 yuan. The ticket includes access to all attractions. Admission for a round-trip bus ticket for the Catholic church is 20 yuan and 20 yuan to the crocodile park.
Yunshuiyao Ancient Town, Fujian
Low-key as it is, Yunshuiyao Ancient Town in Fujian is the shooting location for "Big Fish & Begonia" and "Where Are We Going, Dad?"
A renowned scenic mountain village in China boasting long ancient roads, thousand-year-old banyan trees, green mountains, lakes and fantastic Tulou, Yunshuiyao is an antique site honored as a Famous Historical Village of China and a Scenic Village of China.
The reason Yunshuiyao has attracted so many tourists is because of its tranquil and peaceful ambiance as an old-time Chinese village. Here they have the highest concentration of thousand-year-old banyan tree groups in Fujian, which have stood witness to the changing ages. Walking through the cobbled path under those ancient trees, you will reach the heart of villagers' old homes where the culture's mysterious and long-lived history can be observed in real life.
Add: Yunshuiyao Ancient Town, Nanjing County, Zhangzhou City, Fujian (福建省漳州市南靖县云水谣)
Transport: Take a train from Shenzhen North Railway Station to Nanjing, then take a bus to the destination.
Nuanquan Ancient Town, Hebei
Built in the Yuan Dynasty (1206-1368), Nuanquan Ancient Town, with its large number of historical relics, is one of the 10 most-notable ancient towns in China and a national AAA scenic area.
Nuanquan literally means "warm spring," referring to the two hot springs in the town: one at the center of the town and the other before the Huayan Temple. The town, famous for ancient buildings, the craft of paper-cutting and glistening molten metal performances, attracts a great number of tourists from home and abroad.
With a history of more than 500 years, the traditional performance of splashed molten metal is unique to Nuanquan and it has been listed as a provincial-level intangible cultural heritage item of Hebei Province. Hot molten metal is splashed onto the city wall by folk artisans, sparkling and glistening, making for a spectacular view.
Add: Nuanquan Ancient Town, west of Wei County, Zhangjiakou City, Hebei Province
(河北省张家口市蔚县西部暖泉古镇)
Transport: Take a train from Shenzhen East Railway Station to Zhangjiakou South Railway Station, then take a taxi.
Quyang Lake, Guangxi
Quyang Lake is a giant high-land Karst lake reservoir in northwest of Jingxi County, Guangxi Zhuang Autonomous Region. Inside the lake sits over 10 forested Karst column formations, thrusting through the surface of the water and ascending skywards, lending to the site's heavenly feel alongside the timeless local Zhuang culture.
The perimeter of Quyang Lake is shaped like two large gourds with north-south symmetry. Fifteen kilometers in length and 1 kilometer in width, the lake is so huge that it takes about four to six hours to sail a complete circuit.
Quyang people start working as the sun rises and go back home to rest as the night falls, leading a tranquil life isolated from the hustle and bustle of cities.
Add: Northwest of Jingxi County, Guangxi Zhuang Autonomous Region
(广西壮族自治区靖西县城西北方向)
Transport: Take the train G2912 from Futian Railway Station to Nanning East Railway Station, then take the train K9303 to Jingxi. Then take a taxi to the destination.
Tips: A sailboat ride around the lake costs 50 yuan (Chen Xiaochun)