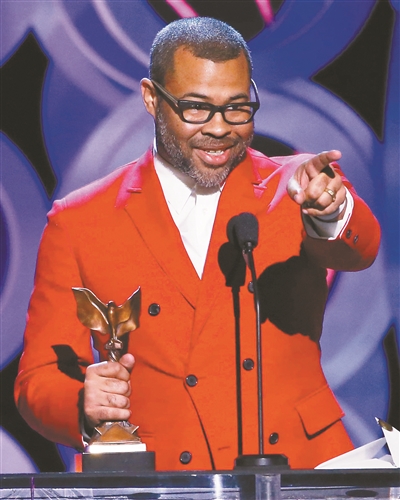 "GET Out" has been named best film at the Film Independent Spirit Awards — which has predicted the best picture winner at the Oscars four years running.
"Moonlight" was seen as an outsider when it picked up the same award at the 2017 event before winning the Oscar.
Jordan Peele was named best director, for what is his feature film debut, at the beachside event in Los Angeles.
The Spirit Awards honor low-budget films and are seen as the precursor to the Academy Awards on Sunday.
Peele is the first black filmmaker to be nominated for best picture, best director and best screenwriting.
He told the audience at the Santa Monica event: "I think it's clear to everybody in this room, across the country and across the world, that we're at the beginning of a renaissance right now.
"Our stories from the outside, stories from the people in this room — the same stories that independent filmmakers have been telling for years — are being recognized and honored."
He said the 23-day-shoot was "scrappy" and that he cried every day because he was so drained.
"This was not a film where anyone got a paycheck," he said. "We did this because we believed in the story. It wasn't a story anybody had seen before — it needed to exist."
The film stars London-born Daniel Kaluuya, who — when asked if he would star in a sequel if one was made — replied with incredulity: "Would I like to be in a Jordan Peele script? We just won!"
Speaking about the prospect of a sequel, Peele said, "We are not closed off to a sequel. The producers and I agree this is not the kind of movie you make a sequel to just to make a sequel, to make money.
"If we can get a story that feels worthy as a follow-up in this world, then we'll do it."
"Get Out" is about a black man who steps into a nightmare when he visits his white girlfriend's family. "This project didn't start as a statement — it began as me wanting to make a film in my favorite genre: mind-bending horror," Peele said.
The Spirit Awards honor films that have been made for a budget of US$20m or less. "Get Out" had a budget of US$4.5m and made US$255m at the box office.
Frances McDormand picked up the best actress award for her role as a grieving mother hell-bent on getting justice in "Three Billboards Outside Ebbing, Missouri." She's widely expected to get the same title at the Oscars.
Timothee Chalamet, who won best actor for "Call Me By Your Name" — a gay romance set in 1980s Italy — told the event that he thought change was on the way in the film industry.
"This is a whole new wave — we're going to be fine, we're going to be good," he said. "We're going to make this change."
"Call Me By Your Name" also won best cinematography.
Other awards went to Allison Janney for best supporting actress for "I, Tonya" and Sam Rockwell, best supporting actor for "Three Billboards."
Janney is widely tipped to win the Oscar for playing LaVona Golden, the domineering mother of figure skater Tonya Harding. "I've played a lot of confused and complicated women, but not any women this dark," she said. "I don't think people usually think of me this way. I guess I want to play more evil, dark characters." (SD-Agencies)
Main winners
Best feature: "Get Out"
Best director: Jordan Peele, "Get Out"
Best screenplay: Greta Gerwig, "Lady Bird"
Best first screenplay: Emily V Gordon and Kumail Nanjiani, "The Big Sick"
Best supporting female: Allison Janney, "I, Tonya"
Best supporting male: Sam Rockwell, "Three Billboards"
Best female lead: Frances McDormand, "Three Billboards"
Best male lead: Timothee Chalamet, "Call Me By Your Name"
Robert Altman award: "Mudbound," directed by Dee Rees