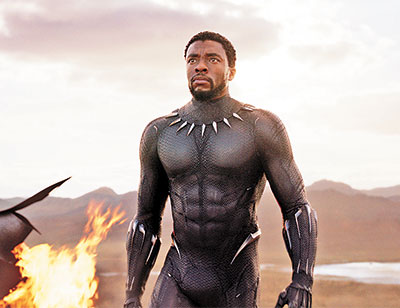 《黑豹》
The land of Wakanda keeps the world away by posing as* one of the planet's poorest African countries and restricting visitors. In fact, it possesses ultra-advanced technology and has a gleaming metropolis* and natural wonders. What makes this possible is a mined substance called vibranium, a source of power similar to nuclear that Wakanda has always kept to itself.
This civilized land remains a monarchy*, and with his father's death, T'Challa (Chadwick Boseman) becomes king. There to support him are his noble mother, Ramonda (Angela Bassett); younger sister Shuri (Letitia Wright), a scientist who's next in line for the throne*; chief counsel W'Kabi (Daniel Kaluuya); mentor* Zuri (Forest Whitaker), the king's valued spiritual leader; and the Dora Milaje, an independent-minded security force of shaved-headed women, notably its best fighter Okoye (Danai Gurira) and the rebellious-minded Nakia (Lupita Nyong'o).
Then there's M'Baku (Winston Duke), who's opposed to* T'Challa's technological beliefs and challenges him to a fight, which takes place in a lagoon* surrounded on one side by towering rocks from which people can watch and a cliff on the other. The physical contest is intense and it sets up another such match later on.
The royals and traditionalists, including T'Challa, insist that vibranium must remain exclusively* in their own possession, as it's been the secret of their success. A minority believes that this extraordinary substance should be shared with the world, or at least with the kingdom's struggling African neighbors, in the interest of the common good.
In the meantime, a bad guy, a white South African gangster and arms dealer named Klaue (Andy Serkis), is keen to get his hands on some vibranium himself. The other Caucasian* of any note is Martin Freeman's good guy CIA agent Ross.
But the biggest threat to T'Challa and Wakandian stability comes from another mercenary*, an imposing African named Erik Killmonger (Michael B. Jordan), who believes that vibranium should be available to all people and that he should profit by selling it.