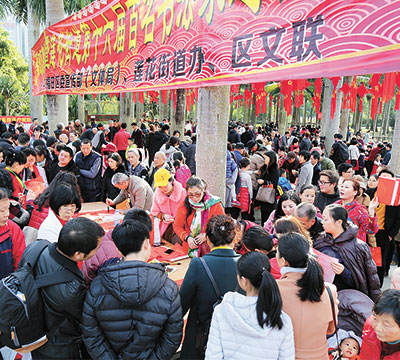 ONE hundred well-known calligraphers and 50 papercutting artists gathered at Lianhua Hill ahead of Chinese New Year to give residents Spring Festival couplets and papercutting works in an expression of their New Year blessings. More than 10,000 people participated in the event.
Among the calligraphers and papercutting artists, nine were nationally renowned and over 80 were famous in Guangdong Province. Together, they created a total of 5,000 or so works under the theme of "New Era."
The couplets-giving event is of the largest of its kind in Futian District held every year and is so popular among residents that each time the event is held the site gets packed with people.
Many residents were seen queuing in the park to get the couplets 30 minutes ahead of the event to make sure they would get their couplets. "Actually I came here last year but I waited for nearly two hours to get the couplets so this year I came very early," said Ms. Liu who lives in Shatou Subdistrict in Futian.
Cai Minghong, a 91-year-old calligrapher who was also the oldest person invited to the event, has attended the event as a guest for 12th consecutive years. Cai witnessed the development of this annual cultural event, the largest, most-popular and most-enduring one of its kind.
Dubbed the "Old Man in Lianhua Hill," Cai is a descendant of Cai Xiang, a famous calligrapher of the Northern Song Dynasty (960-1127) and has his own style of calligraphy, which made him the most popular that day.
The youngest calligrapher was an 11-year-old from Lianhuabei neighborhood. Young as he is, he executed sophisticated strokes and gave out dozens of couplets.
Jointly hosted by the Publicity Department of the Futian District Committee of the CPC, the Federation of Literary and Art Circles of Futian District, the Lianhua Subdistrict Office and the Administrative Office of Lianhua Hill Park, the event was also supported by 60 volunteers.(Yang Mei)