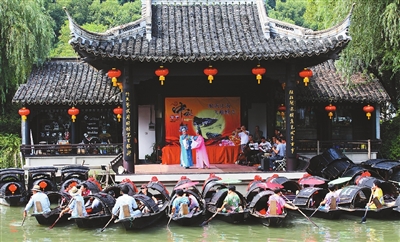 MARCH is the first month of the tourism off-season in China with the New Year's crowds dispersing, making it a great opportunity to take advantage of the beautiful weather, along with some great deals including discounted hotels, flights and authentic local experiences. One more travel hack is knowing that a great number of tourist attractions across China offer free entry or half-price tickets this month, and some deals even last for the whole year.
Zhejiang Province
Quzhou
Quzhou offers free entry for 13 popular tourist attractions from Monday to Friday until Dec. 31. The tourist attractions include Lanke Mountain, Yaowang Mountain, Tianji Longmen, Longyou Caves, Jianglang Mountain, Erbadu Ancient Town and Qianjiangyuan National Forest Park.
Lanke Mountain, also known as Shishi Mountain, is a hill located 10 kilometers southeast of Quzhou city center in Zhejiang beside the Wuxi River. The hilltop is 164 meters above sea level and features a rock formation shaped like a bridge. A cave is located under the bridge, which is said to be the location of the legend concerning a woodcutter named Wang Zhi.
Tianji Longmen is one part of the Ziwei Mountain National Forest Park scenic area, a national 4A scenic spot and a part of the Xianxia Ridge mountain range located south of Quzhou.
The Longyou Caves are a series of large artificial sandstone caverns located at Phoenix Hill, near the village of Shiyan Beicun on the Qu River in Longyou County, Quzhou City, Zhejiang. They are thought to date to a period before the start of the Qin Dynasty in 212 B.C., although no trace of their construction or even their existence has been found in historic records.
Shaoxing
Shaoxing offers free entry for the entire year of 2018. The must-dos for tourists here are black-awning boat rides, visiting the hometown of Lu Xun, and Shaoxing nyu'erhong yellow rice wine tastings.
Wearing a felt hat, sailing on a black-awning boat, savoring a bowl of Shaoxing wine with fennel beans, and enjoying the traditional local opera while having fun with a game of floating wine cups along a winding river ... you name it. There are tons of reasons for you to visit Shaoxing, and getting on a black-awning boat to sail around the water city to feel its softness should not be missed.
Lu Xun Native House, Datong School, the former residence of Xu Xilin, the former residence of Fan Wenlan, and Shaoxing Museum are all free to visit all year round. Other tourist attractions in the city are also free throughout the year except for during the National Day holiday.
Jiangsu Province
Shajiabang-Yushan Mountain & Shanghu Lake
The entry to the tourist area only costs 80 yuan (US$13) per person until May. Usually the ticket price is 150 yuan. The Shajiabang-Yushan Mountain and Shanghu Lake tourism area is located in Changshu, a famous historical city. The hidden gem Yusha Mountain is a national forest park and a cradle of Wu culture. It is also home to two national 5A tourist attractions and is a national famous historical and cultural city.
In addition to its esteemed status as a national forest park, Yushan Mountain is famous as the burial place of Yu Zhong. Its name is derived from the famous ancestor of the Wu culture, Yu Zhong, who lived during the Shang and Zhou dynasties (1600-221 B.C.) and was buried here after his death.
Adjacent to Yushan Mountain, Shanghu Lake is renowned for being the place where Jiang Shang, a very popular strategist and once a premier who won the respect of people, lived a reclusive life after his retreat at the end of the Shang Dynasty (1600-1100 B.C.). With large swaths of wetlands and flying herons, it is China's best ecological lake for leisure and tourism.
Hebei Province
Chengde
The ticket to Chengde Imperial Summer Resort only costs 90 yuan till March 31. The price will go back to 120 yuan after March 31. The resort is not only a world cultural heritage site but also a national 5A tourist attraction in China. It is regarded as one of China's four famous gardens, and the other three are the Summer Palace in Beijing, the Humble Administrator's Garden and Lingering Garden in Suzhou.
The Mountain Resort in Chengde, also called Ligong, is a large complex of imperial palaces and gardens situated in the city of Chengde in Hebei. It served as a holiday getaway site for emperors of the Qing Dynasty (1644-1911).
Surrounded by lakes, forests and mountains, it is China's largest existing imperial garden and the former summer capital of the Qing Dynasty, covering an area of 5.64 million square meters. (Chen Xiaochun)