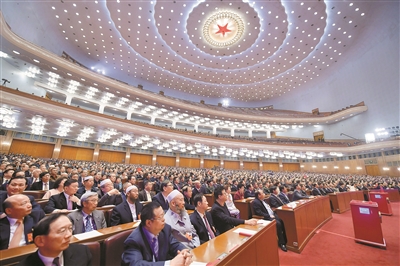 WANG YANG was elected chairman of the National Committee of the Chinese People's Political Consultative Conference (CPPCC), the top political advisory body, yesterday afternoon.
Wang was elected at the fourth plenary meeting of the first session of the 13th CPPCC National Committee, at which 24 vice chairpersons and 300 Standing Committee members were also elected by more than 2,100 CPPCC National Committee members.
The 24 vice chairpersons are Zhang Qingli, Liu Qibao, Pagbalha Geleg Namgyai (ethnic Tibetan), Tung Chee-hwa, Wan Gang (China Zhi Gong Party), Edmund Ho Hau Wah, Lu Zhangong, Wang Zhengwei (ethnic Hui), Ma Biao (ethnic Zhuang), Chen Xiaoguang, Leung Chun-ying, Xia Baolong, Yang Chuantang, Li Bin (female), Bater (ethnic Mongolian), Wang Yongqing, He Lifeng, Su Hui (female), Zheng Jianbang, Gu Shengzu, Liu Xincheng, He Wei, Shao Hong, and Gao Yunlong.
Xia Baolong was elected secretary-general of the CPPCC National Committee.
Born in March 1955 in Suzhou City of East China's Anhui Province, Wang is currently vice premier of the State Council and a member of the Political Bureau Standing Committee of the 19th Central Committee of the Communist Party of China.
He was endorsed as the vice premier of China's State Council in March 2013 after serving as secretary of CPC Guangdong Provincial Committee between 2007 and 2012.
The CPPCC is an important organ for multiparty cooperation and political consultation led by the Communist Party of China.
(Xinhua)