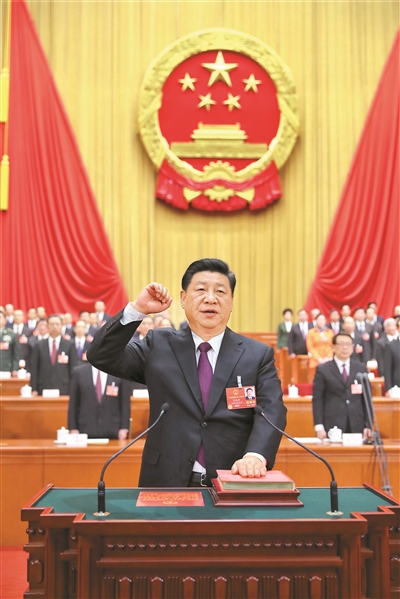 XI JINPING was elected Chinese president by a unanimous vote Saturday at the ongoing session of the 13th National People's Congress (NPC).
Xi, 64, was also elected chairman of the Central Military Commission (CMC) of the People's Republic of China (PRC) by a unanimous vote. After the election, Xi took a public oath of allegiance to the Constitution.
"I pledge to be allegiant to the Constitution of the PRC, safeguard the Constitution's authority, fulfill my legal obligations, be loyal to the country and the people, be committed and honest in my duty, accept the people's supervision and work for a great modern socialist country that is prosperous, strong, democratic, culturally advanced, harmonious, and beautiful," he said.
This was the first time a Chinese president has taken such an oath upon assuming office.
Last October, Xi was elected general secretary of the Central Committee of the CPC and appointed CMC chairman of the CPC at the first plenary session of the 19th CPC Central Committee.
He was first elected general secretary of the CPC Central Committee in late 2012, and Chinese president and CMC chairman of the PRC in March 2013.
In the president's first five-year tenure, China has made historic achievements and undergone historic changes. Having "stood up" and "grown rich," China is "becoming strong."
Xi told the Party's 19th National Congress in the opening speech that socialism with Chinese characteristics had entered "a new era."
Xi Jinping Thought on Socialism with Chinese Characteristics for a New Era was written into the CPC Constitution at the Party congress, and into the country's Constitution on March 11, making it the guiding principle of China.
He laid out a two-step approach to future development: working to basically realize socialist modernization from 2020 to 2035; developing China into a great modern socialist country from 2035 to the middle of the century.
Also on Saturday and yesterday, other newly elected or endorsed State leaders pledged allegiance to the Constitution upon assuming office. (More on P4) (Xinhua)