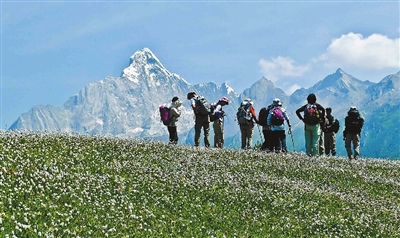 MARCH is the first month of the tourism off-season in China with the New Year's crowds dispersing, making it a great opportunity to take advantage of the beautiful weather along with some great deals including discounted hotels, flights and authentic local experiences. One more travel hack is knowing that a great number of tourist attractions across China offer free entry or half-price tickets this month, and some deals even last for the whole year.
Sichuan Province
Jiuzhaigou
The entry to Jiuzhaigou, which costs 220 yuan (US$35) during peak season, costs only 80 yuan from now till March 31. After being closed for seven months, Jiuzhaigou National Park is reopening its tourist sites bit by bit.
Shuzhengqunhai Scenic Area is the door to the beautiful scenery in Jiuzhaigou. It's home to over 40 lakes that cumulatively account for around 40 percent of the total number of lakes in Jiuzhaigou, including Penjing Lake, Luwei Lake and Huohua Lake, to name a few.
The small but exquisite Wucai Pond is 6.6 meters deep, 2,995 meters above sea level and occupies an area of 5,645 square meters. On sunny days, the lake reflects various colors when the surface ripples, shining with red, orange, yellow, green, cyan, blue and purple light, making it look other-worldly.
Kangding scenic area (Mugecuo)
Entry to Mugecuo, which costs 105 yuan during peak season, costs only 75 yuan from now till March 31.
Mugecuo, situated in the north of Kangding County, the home of a famous love song in the Garze Tibetan Autonomous Prefecture of Sichuan, is known as Kangding Love Song Scenic Area. Covering 350 square kilometers, the scenic area consists of six major parts: Cuckoo Gorge, Grass Ground, Qicai Sea, Yaochi Spring, Mugecuo Lake and Honghai Grassland.
Endowed with numerous lakes, waterfalls, hot springs, dense woods, fragrant flowers, peculiar peaks, and grotesque rocks, Mugecuo Scenic Area presents picturesque scenery all the year round.
The Qicai Sea is a crescent-shaped lake which looks like a colorful lens embedded in the forest and lawn. It is so named due to the fact that the lake water can change into seven colors as the weather and sunlight change.
Siguniang Mountain
The entrance tickets to Shuangqiao Valley, Changping Valley and Haizi Valley only cost 50, 40 and 40 yuan respectively from now till March 31.
Siguniang Mountain is the highest mountain of Qionglai Mountains in western China. It lies 220 kilometers west of Chengdu, in the Qionglai Mountains of western Sichuan in China. Siguniang Mountain Scenic Area is an unspoiled wilderness park famed for its steep and imposing ridges and valleys.
The scenic area includes one mountain — Siguniang Mountain, and three valleys — Shuangqiao Valley, Changping Valley and Haizi Valley. The blue sky, clouds and mist, snow peaks, ancient cypress forests, rushing waterfalls and alpine meadows make this area a nature lovers' dream.
Ruoergai Flower Lake
The entry to Ruoergai Flower Lake, which costs 75 yuan during peak season, only costs 35 yuan from now till March 31. And the entry to Yueliang Bay is also only 30 yuan.
Ruoergai Flower Lake is a natural lake located in the Gers Dam Grasslands, the second-largest grassland in China only after the Hulunbuir Grasslands. The lake, commonly known in Chinese as Huahu Lake, got its name from its shape, which looks like a small white flower growing in the lake.
The breathtaking beauty of the calm and vast grasslands and sky, the absolute blue water, together with the pure clouds above is sure to dazzle you like a hammer striking your heart. People say that seeing Ruoergai Flower Lake for the first time is like experiencing love at first sight.
Shandong Province
Laoshan Mountain
The entry to Laoshan Mountain is only 30 yuan from now till March 31, 2019.
Laoshan Mountain is located near the East China Sea on the southeastern coastline of Shandong Peninsula in China. It has been nicknamed the "No. 1 seashore mountain" since long ago. Among all the famous mountains in China, it is the only one situated on a coast line.
Laoshan Mountain overlooks the sea and features imposing canyons, undulating peaks and shrouding mists. There are oddly-shaped stones, imposing cliffs and caves dotting the mountain. The roads are curved and uneven. Many clear springs and waterfalls ornate around the areas.
Gansu Province
Dunhuang Mogao Grottoes
The entrance to the Dunhuang Mogao Grottoes, which costs 200 yuan during the peak season, only costs 100 yuan from now till April 30. All college students can enjoy 50 percent off based on the already half-price entry.
Enjoying a time-honored history of over 1,600 years, the Dunhuang Mogao Grottoes together with the Maijishan Grottoes, Longmen Grottoes and Yungang Grottoes are collectively called the "Four Grottoes of China."
The Mogao Grottoes, also known as the "Thousand Buddha Grottoes," form a system of 492 temples, 25 kilometers southeast of the center of Dunhuang, an oasis strategically located at a religious and cultural crossroads on the Silk Road in Gansu Province. It comprises the largest, most richly endowed, and longest-used treasure house of Buddhist art in the world.
(Chen Xiaochun)