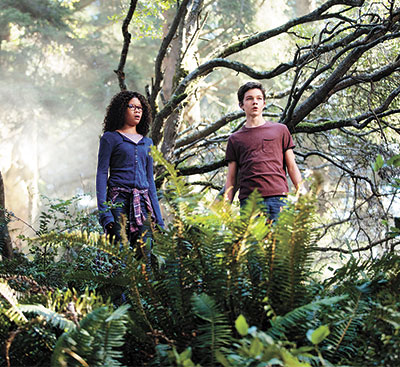 Adapted from Madeleine L'Engle's fantastical 1962 book, the film is about a girl's journey through multiple dimensions to find her long-missing father.
The film centers on 13-year-old Meg (Storm Reid), who has a black mother (Gugu Mbatha-Raw), a white father (Chris Pine) — the latter a scientist who's been missing for four years — and a mixed-race 6-year-old adopted* brother, Charles Wallace (Deric McCabe). Then there's the trio of kind other-worldly overseers (Oprah Winfrey, Reese Witherspoon, Mindy Kaling) who arrive to help with Meg's inter-galactic* search for her dad and to pronounce endless esteem-affirming platitudes* like "You can do this!" and "You are a warrior!"
Although Meg is very bright, like everyone else in her family, she hasn't been the same since Dad disappeared. Little Charles Wallace, who's always referred to by both names, is a real smarty pants* and angers Meg. Meg also has a cute would-be boyfriend, Calvin (Levi Miller).
When the three women — Mrs. Which (Winfrey), Mrs. Whatsit (Witherspoon) and Mrs. Who (Kaling) — suddenly appear much in the manner of the Good Witch from the North, Meg is enlightened about the existence of something called the tesser, a warp* in time and space that might enable her to find her father on the other side, where he's suspected to be trapped. Charles Wallace and Calvin are not about to be left behind, and so the journey begins.
However, the challenging events facing the inter-galactic explorers mostly feel rote*, arbitrary* and uninteresting.
All that said, the film is tolerable* when it remains centered on the three likeable kids, their bickering* and their underlying "there for you" inter-dependency. Meg is appealing because you know that behind her reticence* lies a smart and resourceful girl who will one day be able to fully assert herself without having to be told every five minutes that, "You just have to have faith in who you are." Calvin is nice eye candy* for teen girls, while Charles Wallace is funny as the preternaturally sharpest kid in the neighborhood.Ready Player One《玩家一号》In the year 2044, the world has been gripped by an energy crisis from the depletion* of fossil fuels* and the consequences of global warming and overpopulation, causing widespread social problems and economic stagnation*.
To escape the decline their world is facing, people turn to the OASIS, a virtual reality simulator accessible by players using visors* and haptic* technology such as gloves. It functions both as an MMORPG* and as a virtual society, with its currency being the most stable in the real world. It was created by James Halliday who, when he died, had announced in his will to the public that he had left an Easter egg inside OASIS, and the first person to find it would inherit his entire fortune and the corporation. The story follows the adventures of teenager Wade Watts, starting about five years after the announcement, when he discovers one of the three keys pointing to the treasure.
The debut novel of American author Ernest Cline was first published in 2011 and won several awards in 2012.
A film adaptation, directed by Steven Spielberg, is slated to premiere in theaters on March 29.
The book is available at online bookstores like jd.com.
(SD-Agencies)