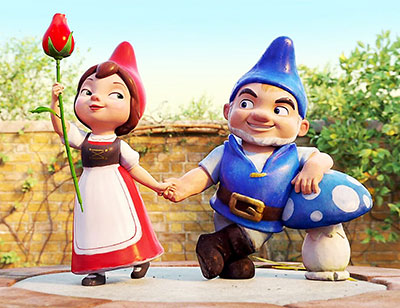 《吉诺密欧与朱丽叶2:夏洛克·糯尔摩斯》
The last time we saw Gnomeo and Juliet, the star-crossed* lawn ornaments were singing and cavorting* their hearts out in a proper English garden. Seven years later, they're back in an adventure that swaps* Shakespeare for Sir Arthur Conan Doyle and Stratford-Upon-Avon for London.
In a brief setup, several potential Gnome-ified scenarios are floated (including "Game of Gnomes") before homing in on Holmes. And the film finds Gnomeo (voiced by James McAvoy) and his beloved Juliet (Emily Blunt) having a hard time with their relationship as they adjust to* their new big city surroundings.
But they're forced to put their personal issues aside with the discovery that someone has been kidnapping their fellow pottery. The mystery has them teaming up with Sherlock Gnomes (Johnny Depp) and the faithful but taken-for-granted Watson (Chiwetel Ejiofor), with all clues pointing to the involvement of Sherlock's old enemy, Moriarty, here in the form of a "Goobarb Pie" mascot* (Jamie Demetriou).
Choreographed by "Kung Fu Panda" co-director John Stevenson, the film's screenplay is credited to Ben Zazove, with another four writers receiving story credit.
Sadly, the film allows little opportunity for the capable voice cast to shine, especially for Michael Caine and Maggie Smith, returning very briefly as Lord Redbrick and Lady Blueberry, who presided over the Capulet-Montague dynamic of the first installment.
Among the newcomers, Depp feels oddly suppressed as the pretentious* Sherlock, while Mary J. Blige at least gets her moment in the spotlight as Sherlock's former flame, a Victorian doll who sings the new Elton John/Bernie Taupin song, "Stronger Than I Ever Was."
As in the previous film, "Sherlock Gnomes" takes the majority of its musical cues from Sir Elton's catalog, including remixed snippets* of "Saturday Night's Alright for Fighting," "Philadelphia Freedom" and "The One." (SD-Agencies)