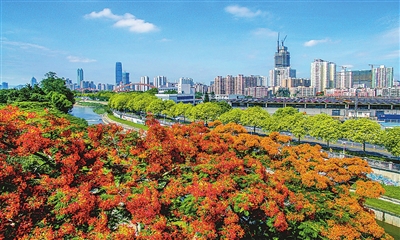 COASTAL Shenzhen is already bursting forth with verdant trees and blossoming spring flowers. Here are five routes for appreciating the unfurling floral glory this spring, recommended by experts from the city's green space planning offices.

Now that the flowers are all in their best bloom, bring your beloved with you and treat yourselves to a stroll through delightful seasonal landscapes in this fresh spring weather while it lasts.
Route 1: Wutong Greenway
The Wutong Greenway blends landscape, leisure and culture into one. It's one of the best getaway options hidden within the bustle of Shenzhen. Walking along the greenway, you will encounter different species of flowers including those of the orchid tree (bauhinia variegata), golden trumpet tree and bougainvillea bush. On top of all, you will see Westland's rhododendron scattering around the mountain.
Wutong Mountain is currently hosting the third Westland's Rhododendron Festival with various exhibitions and events being held at different locations inside the mountain.
In Shenzhen, the flowering period of Westland's rhododendron is from March to April, and its fruiting period is from May to June.
More than 450 Lapland rosebay (rhododendron lapponicum) trees in 10 varieties and more than 1,000 pots of other azalea are also on display. Lapland rosebay flowers are magenta in color.
Route 2: Street Center Garden at Wenxin Plaza — Huayang Street at Coastal City — Haide Road 3 — Dengliang Road — Shenzhen Talent Park
Walking along this route, one cannot help but appreciate the beautiful flowers surrounding the irresistible shopping opportunities.
Coastal City is a retail shopping and leisure destination located in downtown Nanshan District. The style of shopping is mostly retail shopping of good quality products, including reputable brands of men and ladies fashion. There are also some children's ware stores, gift shops, beauty care, lifestyle and IT retailers .
Route 3: Qianhai Boulevard — Shennan Boulevard — Nanhai Boulevard — Binhai Boulevard — Houhai section of Shahe Road West
This is a route where you can see the typical landscape of Shenzhen under the shade of the orchid trees, golden trumpet trees and bougainvillea lining up both sides of the roads. Each section of trees and bushes was planted with flowers of the same hue. With large stretches of singular-colored flowers, these floral avenues create a striking visual impact on viewers.
A landmark road of Shenzhen, Shennan Boulevard is a major east-west thoroughfare of the city. Spanning across Luohu, Futian and Nanshan districts, the road measures 25.6 kilometers in length. Traveling through this main stem, you will see all the highlights of the city, including Window of the World, Happy Valley, Huaqiangbei Street and Civic Center, just to name a few.
Route 4: Pingshan Avenue — Street Center Garden to the south of Pingshan District Government — Pingshan Avenue — Danxing Avenue — Julong Mountain Cherry Blossom Valley
This is the most romantic route for appreciating flowers. After walking through wide and flat Pingshan Avenue with a flower landscape encapsulating the moment on either side, you will reach the quiet Street Center Garden, which is hidden amid the bustling city. After that, you and your companion-of-choice can reach Julong Mountain and submerge yourselves in a sea of cherry blossom.
Route 5: Meilin Greenway
Meilin Greenway, built around Meilin Reservoir, is 5 kilometers in length. On both sides of the greenway stand golden trumpet trees and ceiba insignis trees, adorned by shrubbery including plum and osmanthus trees.
Meilin, meaning "plum forest," is full of activities for the outdoorsy. Even better, it's within Shenzhen's city limits, meaning residents can skip the hours-long bus ride needed to hike in a remote locale.
(Chen Xiaochun)