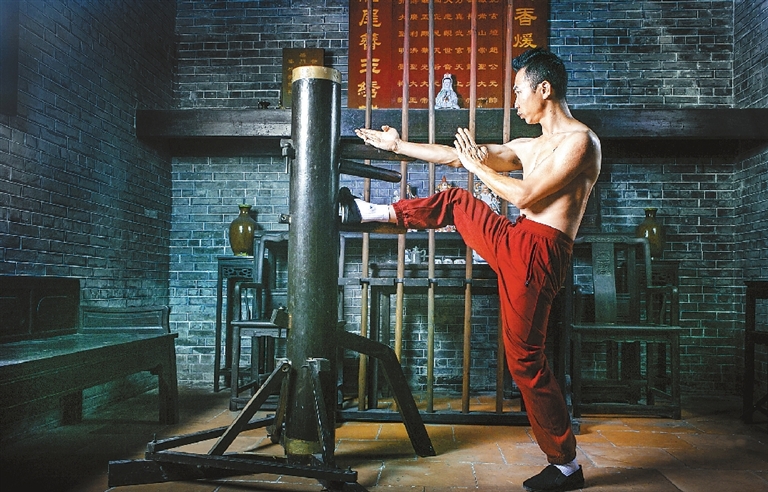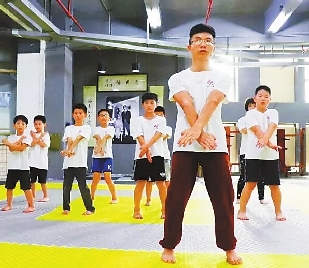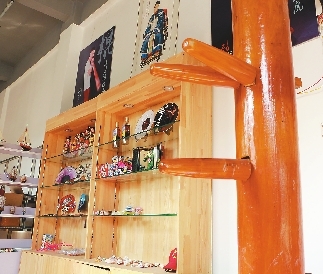 Editor's note
This page is a product of a joint program between Shenzhen Daily and the School of Journalism and Communication of Guangdong University of Foreign Studies (GDUFS). The story and photos are contributed by the school's research team.
THROUGH the promotion of heated kung fu movie "Ip Man," Wing Chun, a type of traditional Chinese martial art, has gained a wave of prevalence all over the world.
Recently, Donnie Yen, the actor playing Ip Man, revealed in an interview that the fourth episode will include some scenes filmed in the United States, and he plans to participate in the filming.
It is estimated that more than 2 million Wing Chun practitioners belong to Ip Man's popularized faction worldwide. More notably, Wing Chun has been adopted as a military training method in European countries such as Germany, Britain and more.
Gulao, a village located near Heshan and hometown to prominent Wing Chun martial artist and Ip Man's ancestor Liang Zan, is a Mecca for Wing Chun enthusiasts.
Mo Zhaoxin, appointed the fifth-generation heir of Wing Chun, is one of them.
Since Liang Zan Wing Chun was declared its status as an intangible cultural heritage item of Guangdong Province in 2008, the government has been building the city's name as "the national hometown of martial arts," taking various measures towards making Wing Chun more nationally and internationally influential.
"It's more like a faith for me."
Speaking of Wing Chun culture, Mo has a unique comprehension bordering sheer obsession with the martial arts practice. "Practicing well means I must also undertake the responsibility of inheriting and spreading it."
So many labels can be attached to him: a learner, a teacher or a maker of the culture. Such an identity is now incorporated into one title: the Wing Chun'er.
A lonely yet sufficient practice
It has been 14 years since Mo firstly chose to learn Wing Chun.
Majoring in printing in college, he came into Shanghai working in a printing factory in 2004. "I felt it was necessary to develop self-defense skills due to time spent alone outside," he said. With this as his original intention, he returned to his hometown of Shaping, determined to master Wing Chun.
Nothing was easy in the beginning, and neither was Mo's search for a great master. After several twists and turns, he eventually got on the right track when he met Gu Zhaonu.
The fourth-generation heir of Liang Zan Wing Chun, Gu has been practicing Wing Chun for nearly 76 years. Six years ago, the then-75-year-old master was determined to take on more understudies, breaking the ancestors' rule of not teaching the skill to outsiders.
Bringing Wing Chun to the international community, Gu and Mo made their appearance at the 2017 China (Guangdong) International Tourism Industry Expo to demonstrate Heshan Wing Chun to the participants.
Mo disclosed that he took great efforts to practice Wing Chun systematically. "There are the four characteristics of Wing Chun: aggressive, accurate, fast and strong. Without the right execution of the movements, the power of it can't be completely released," he said. Despite rigorous practice at class, it still takes a great amount of time to practice it after class. "A measurement of a skilled motion is like a natural reflection, and usually it takes the learner at least 6,000 repititions to master it, maybe more to a 10,000 times if you get lazy in the process."
"Wing Chun is a practice." Speaking of the biggest gains of the perseverance, Mo gives this brief yet powerful response after thinking for a long while. "When faced with obstacles, all you think of is getting through and it really contributes to a greater patience and persistence."
"It's lonely during the process, yet you're also greatly satisfied when making achievements."
Strictness leads to inheritance
In 2013, Mo founded the Jin Dao Wing Chun club in Humen, Dongguan, so as to seek more partners and fulfil the teaching promise of Gu as well.
Compared with other masters, Mo adopts a more sophisticated basic technique, which requires the trainees to divide their arms into three parts: the palm, the forearm and the upper arm. According to different movements, the force focusing points are in different parts of the arm. The entire process requires the utmost motor control in the hand and the body so as to best cultivate practitioners' flexibility, awareness and execution.
Essentially, discipline is equivalent to a better inheritance. From his initial intention of finding sparing partners to overseeing more than 100 trainees nowadays, Mo hopes for people to acquire the patient and perseverant nature of Wing Chun, as well as be an upright man, and if possible, start a club like his to widen and lengthen the road of Wing Chun.
When the club is more developed, Mo will consider promotion abroad. "In practicing Wing Chun, they'll gain more access to Chinese culture."
Innovative development
Polishing the Wing Chun cultural brand, the local committee built a Wing Chun cultural park located in the origin of Liang Zan Wing Chun in 2015. Simultaneously, owing to its large promotion, Wing Chun was adapted as an exercise for school students, entering into the elementary and secondary school and gaining an extensive following among teenagers.
Mo himself also opened up a new path for the innovative development of Wing Chun in Gulao.
Shirts of Wing Chun, statues of kung fu masters, dolls, and so on are on display in Mo's souvenir shop, and all kinds of cultural and creative products of Wing Chun are placed on glass shelves. Each time a visitor comes by, Mo introduces the products to them. During his spare time, he always designs new Wing Chun products using Photoshop.
In 2016, Mo built the first and the only Wing Chun souvenir shop. Mo's enthusiasm for Wing Chun led him to resign from his high-paid job in Dongguan and go back to his hometown to set up his own business. Mo admitted that maintaining cultural and creative stores is indeed difficult.
According to Feng Yingyao, one of the staff of Tourism Office of Gulao Town, Mo is the only person who persists in promoting Wing Chun culture in Gulao. The massive loss of local young people and the variety of social entertainment are virtually engulfing the soil of Wing Chun's cultural and creative industries. Improving cultural and creative products still has a long way to go.
However, even when facing the tough marketing environment, Mo has never thought of giving up this unexplored road. In the near future, several groups of kung fu clubs will be built near Liangzan Park and Mo will impart Wing Chun wisdom there. "To promote Wing Chun culture, masters should play the role of an hair and a carrier of Wing Chun culture." Viewing the dilemma as only a temporary difficulty, he still feels confident in the coming developments.
"The spirit of Wing Chun is essentially a kind of chivalrous spirit," Mo said. "The patriotic generals of the Ming Dynasty (11368-1644) created this set of fists in order to overthrow the Qing Dynasty (1644-1911), which implies the ideology of the ancestors for the country and the people."
(Contributed by Ye Zhanhang, Wang Xiaoyang, Li Guoyi, Chen Yecheng, Huang Mingting, Liang Mengfei and Xu Le)