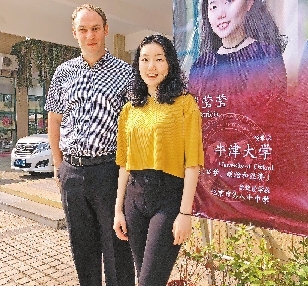 深国交学生被牛津大学哲学、政治学及经济学专业预录取
Zhang Qian
zhqcindy@163.com
What is the relationship between politics and economics? Is economics determined by surrounding political frameworks? Is the economic foundation fundamental to a political infrastructure? These are some of the questions that a candidate applying for the Oxford Politics, Philosophy and Economics (PPE) degree might be asked during an admissions interview.
Zhai Yingying has been preparing herself to answer these questions for the last three years since she got admitted to study at the Shenzhen College of International Education (SCIE). The student recently became SCIE's first student to get a placement in the highly-demanding Oxford PPE degree.
The Oxford PPE has been known as one of the best degrees for cultivating world-class thinkers and politicians, including the four kings of the United Kingdom, eight kings of other countries and a handful of British prime ministers.
Among 27 students at SIEC getting Oxford and Cambridge offers this year, most are going on to study sciences, but Zhai and another girl will study humanities at the top-ranking universities.
According to Richard Driscoll, a British sociology teacher from the school, Zhai stood out during her first year of schooling when she demonstrated great interest and passion for humanities.
"I'm not surprise that she got the offer because she was exceptional in articulating and expressing herself at the group. It's very difficult to give a logical argument but she did well," said the teacher.
The group mentioned by Driscoll is a weekly discussion group where students who have interest in humanities discuss and debate various philosophical topics and social issues.
With the help of several teachers teaching humanities at the school, students sometimes get recommended reading materials and conduct research on the topics.
"At first it was very hard, but I have to do this in order to be capable of studying the subjects. So I practiced by participating in model United Nations, debate club and reading several books on thinking skills," said Zhai.
When sharing her thoughts about choosing what subjects to study at university, Zhai suggested her peers and younger students to stick with their passion, especially for students who are keen on studying humanities subjects.
"Sometimes we are not sure what kind of job we can get when we graduate, but my suggestion is try not to be so pragmatic when choosing subjects because you will eventually find a suitable job if you stick with your passion," said Zhai.
In order to secure her place at Oxford, Zhai has to pass her A Level exams with three A grades. She has already gotten an A in math.