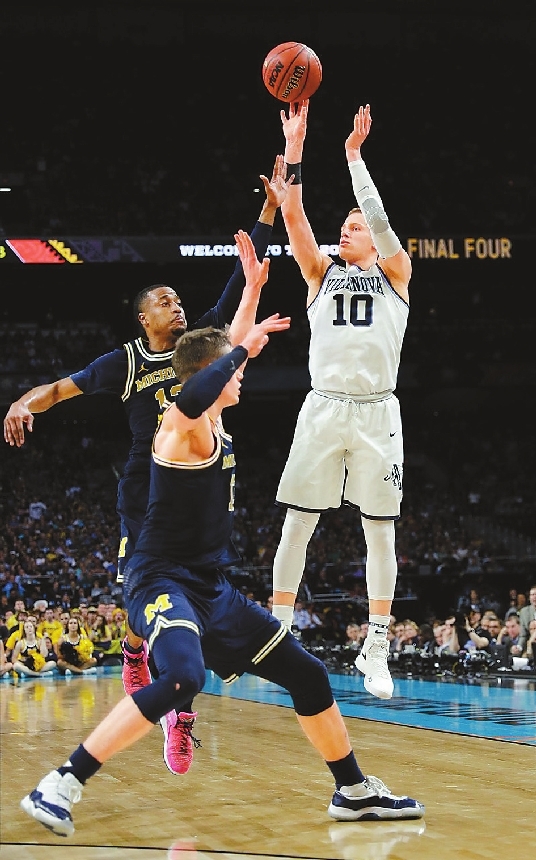 VILLANOVA has its second U.S. NCAA national championship in three years after a 79-62 victory over Michigan on Monday.
The Wildcats went 31 years between their first title in 1985 and their second one two years ago in Houston. Coach Jay Wright and Villanova didn't have to wait very long for another one.
Donte DiVincenzo came off the bench to score 31 points Monday and lift Villanova to another blowout tournament victory. The sophomore guard had 12 points and an assist during a first-half run to help the Wildcats (36-4) pull ahead, then scored nine straight for Villanova midway through the second to put the game away. He capped it with a 3-pointer from a step behind the arc that he celebrated with a knowing wink over to TV announcers Jim Nantz and Bill Raftery on the sideline.
Villanova won all six games by double digits over this tournament run, joining Michigan State (2000), Duke (2001) and North Carolina (2009) in that rare air.
DiVincenzo squashed any questions about this game with a 10-for-15 shooting night — 5 for 7 from 3, making him an easy winner for most outstanding player in the Final Four.
He opened his game-sealing run with an around-the-back dribble to get to the hoop and get fouled. On the other end, he delivered a two-handed rejection of Michigan's Charles Matthews, when Matthews tried to bring it into the paint.
"Blocked shots, definitely," DiVincenzo said when asked if he enjoys 3s or rejections more.
The 3 that sealed it came from a big step behind the arc and gave Villanova a 62-44 lead with a bit less than 8 minutes left.
About the only drama left was whether DiVincenzo could unwrap himself from his teammates' mob hug to toss the ball underhanded toward the scoreboard after the buzzer. He succeeded there, too.
Michigan (33-8) came out playing tough-nosed defense it relied on over a 14-game winning streak that got the Wolverines to their second final in six years.
Moe Wagner scored 11 early points to continue his great play in the Final Four. Villanova started 1 for 9 from 3-point range. And yet, after DiVincenzo banged down a 3 from a step behind the arc for Villanova's second of the night, coach John Beilein looked at the scoreboard and saw his team behind, 23-21.
If that wasn't demoralizing enough, DiVincenzo made another 3, took a bounce pass from Jalen Brunson for a dunk, then paid it forward with an assist to Omari Spellman. It was part of a 23-7 run that gave the Wildcats a nine-point lead at halftime; they never looked back.(SD-Agencies)