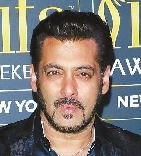 AFTER spending two nights in prison, Bollywood star Salman Khan was granted bail Saturday following his conviction Thursday for the 1998 killing of two blackbucks, an antelope species protected by Indian law.
Khan was given a five-year sentence of a maximum six-year term. But the actor's legal travails are not yet over as the case will come up for hearing again May 7.
Local media reported that Khan was granted bail and told to file a personal bail bond for 50,000 rupees (US$770) and produce a 25,000 rupee surety from two persons who will guarantee that he will comply with all bail conditions. The conditions include the fact that Khan cannot leave the country without the court's permission and that he has to appear again for the next hearing.
The poaching incident took place two decades ago near Jodhpur, in the western state of Rajasthan, where the actor was filming a movie, "Hum Saath Saath Hain" ("We Are All Together"). During a break from filming, Khan allegedly went on a hunting trip with some of the film's co-stars, actresses Neelam Kothari, Sonali Bendre Behl and Tabu along with actor Saif Ali Khan (who stars in Netflix's upcoming first Indian series "Sacred Games"). They were also present for the hearing Thursday but were acquitted by the Jodhpur court while Khan, 52, was taken into custody.
According to local reports, in an earlier hearing in the long-running case, the actor had pleaded innocence claiming before the court that the blackbuck died of "natural causes" and that he was being "framed." The case against Khan was filed by the Bishnoi community for whom the blackbuck is a sacred animal.
In 2015, he was found guilty in a hit-and-run case where he was accused of killing one homeless man and injuring others while driving drunk in Mumbai back in 2002. But he successfully appealed the conviction verdict as the Bombay High Court cleared him of all charges.
(SD-Agencies)