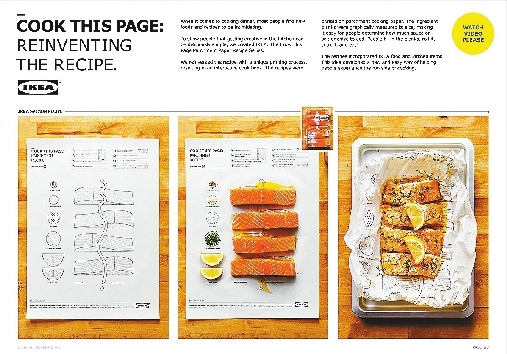 创意菜谱你用过吗?
IKEA Canada has teased a set of recipes and the illustrated instructions seem to be much easier to follow than some of the brand's tricky furniture-building guides.
Each of the recipes is printed on a single piece of parchment paper*, with step-by-step instructions written on the top.
There are also illustrations of each of the ingredients*, drawn to scale so the at-home cook can place the meat, spices and pasta directly onto designated spots on the paper. The paper can then be rolled up and placed in the oven to cook.
The recipe pages were dreamt up by Leo Burnett, a marketing company in Toronto. The recipes are all for foods available to buy and eat at IKEA stores, like Swedish meatballs and salmon.
For the ravioli* with Swedish meatballs recipe, the paper has spots for each piece of ravioli, each meatball, salt, garlic, oregano* and sauce.
The illustrations of the ingredients are artfully arranged and contain notes with the proper measurements.
"When it comes to cooking dinner, most people find new foods and recipes intimidating*," the marketing agency behind the creations explained. "So we set out to prove that getting creative in the kitchen can be deliciously simple."
Unsurprisingly, the campaign has already won awards — and plenty of social media approval.
(SD-Agencies)