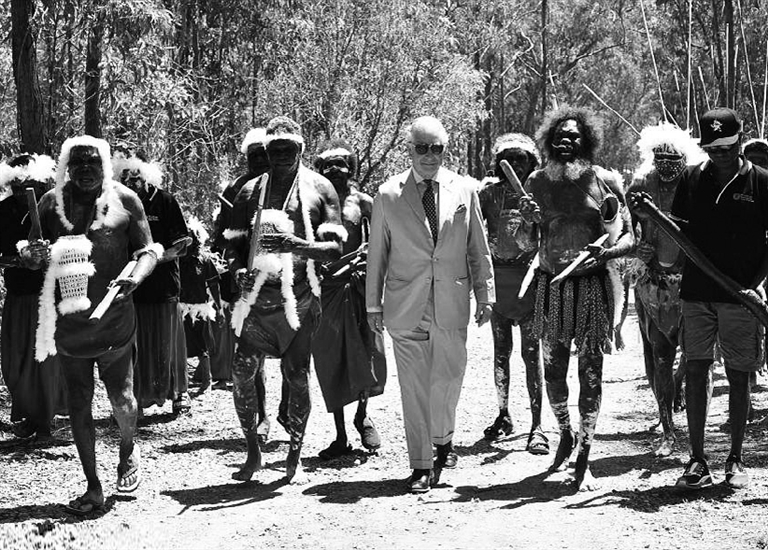 WEARING a feather headband and a stringed basket around his neck, Prince Charles embraced a traditional aboriginal welcome on the penultimate day of his Australian tour.
The royal was flanked by indigenous people as he walked to his seat for the Welcome to Country Ceremony at Mt. Nhulun in Gove in the Northern Territory.
He then chatted with Indigenous leaders as he enjoyed a demonstration of traditional dancing, looking suave in a beige suit and tie despite the searing 33 degrees Celsius heat.
On a tour of the Buku-Larrnggay Mulka Arts Center in Gove, which showcases the work of the area's indigenous people, Charles took part in a Yidaki healing ceremony, where a didgeridoo was blown close to his chest.
World-renowned didgeridoo master Djalu Gurriwiwi performed the 30-second blessing.
Wearing some snazzy sunglasses and brown shoes, the Prince of Wales then spoke to people whose work was displayed at the center and admired their intricate artwork.
At one point, Charles joked when a woman's phone rang just as he was about to shake her hand. "Shall we see who it is?" he quipped.
When Charles stepped off the plane before the welcome ceremony, he was handed a woomera — a traditional spear-throwing device — as he was greeted by aboriginal leader Galarrwuy Yunupingu.
The royal was presented with a feather-stringed headdress, called a Malka String, and a string basket known as a Bathi.
Charles remarked how it was the furthest north he had traveled in Australia before joining a procession and watching the singing and dancing of the Rirratjingu people atop sacred Nhulun Hill.
His visit to Gove came on the penultimate day of his weeklong 16th tour of Australia.
Last Wednesday, he opened the Commonwealth Games on the Gold Coast and has spent time in Brisbane, Bundaberg, Cairns and Vanuatu. He headed to Darwin, before flying home Tuesday.
On Sunday, the heir to the throne was spreading the charm in Cairns in far north Queensland with a service at St. John's Anglican church in town.
The 69-year-old — who has been in Australia for the Commonwealth Games with the Duchess of Cornwall — met with the congregation for 15 minutes before he departed for his next tour.
And with time running out on the clock, two beaming women popped up behind the prince — who was snapped holding a cup and saucer — as the pair pulled a cheeky smile at the camera.
The church service comes as Prince Charles was left astonished by an aboriginal elder's huge ceremonial club as the royal was treated to an ancient smoking ceremony.
The prince was left gawping at an impressive two-meter-long ceremonial club as he toured one of Australia's most pristine rainforests in far north Queensland.
A Kuku Yalanji aboriginal elder showed off the huge tool, believed to be made of mulga wood, which is often used in ceremonies, in battle, for digging, for grooving tools or decorating weapons.
The heavy pole, which is capable of splitting a shield or knocking out prey, was just one of the traditional hunting tools the British prince laid his eyes on during the tour Sunday.
(SD-Agencies)