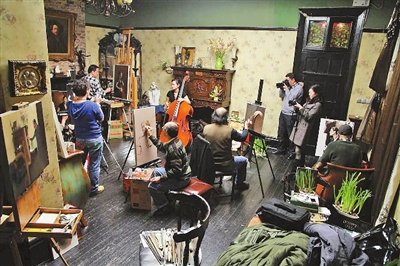 Cao Zhen
caozhen0806@126.com
SHENZHEN is never short on art exhibitions, but rarely has the city seen long queues in front of a single painting.
"Sketch for 20 Years," showcasing 93 oil paintings created by five Chinese realism painters, opened at J Space and C2 Hall at OCT-LOFT on Sunday. A long line of visitors formed outside the exhibition before opening, and after the doors opened, the queues regrouped inside the building in front of two famous portrait oil paintings, "Xiaowen" and "Xiaotang."
The two portraits of ordinary Chinese women were created by Leng Jun, China's most influential hyperrealism painter. In "Xiaowen" and "Xiaotang," the incredible precision of Leng's paintbrush captured every detail of his subjects, resembling a high-resolution photograph. Viewers were in awe of Leng's delicate rendering of minute fabric patterns, garment folds, the subtlest of shadows and veins under the skin.
Every specific gesture and movement of the subject is handled with highly-tuned artistic technique, carefully endeavoring to achieve his intended perfect visual effect. Due to Leng's exquisiteness, the sanctified expressions in the portraits deliver a resounding impact upon viewers.
Leng said that he also created abstract and ink paintings in the early 1980s. In 1988 when an exhibition curator asked him to submit a realism painting, he spent a whole afternoon painting still life. Later, he began to invest more time on a single realism painting, from two days to one month per work. "'Xiaowen' took me two months, while 'Xiaotang' five months. If you are not anxious, the creation process will not feel laborious," said Leng.
In addition to human portraits, Leng has also painted a large number of still-life hyperrealism paintings, such as rusty mechanical items and wooden furniture, perfectly encapsulating the items' aged sturdiness in paint. His paintings are said to be worth tens of millions of yuan now, yet some have scorned him for his photo-like paintings.
But as Leng explains, "Hyperrealist style is not a strict interpretation of photographs. The tempo and the direction of an artist's brushstrokes matter in a painting. Like writing a poem, a simple line can contain additional, often subtle, pictorial elements to create the illusion of a different reality. A painting may incorporate emotional, social and cultural thematic elements as an extension of the painted visual illusion."
Born in 1963 in Sichuan, Leng graduated from the fine arts department at the Hankou branch of Wuhan Teachers College in 1984. Dedicated to traditional art methods, he and his four painter friends, Guo Runwen, Liu Xin, Zhu Xiaoguo and Shi Jun, have gathered at Wuhan every February to paint from nature for more than 20 years.
Leng rents out the S.W. Litvinoff Residence, a century-old Western-style house in downtown Wuhan, as a studio. As word of the five painters' annual gathering has spread through art circles in recent years, art lovers and students from around the country have come along every February to the studio, admiring and learning from the five's creation.
Last year, the five exhibited their oil paintings at the "Sketch in February" exhibition in Wuhan, which is now touring in Shenzhen. "It was unintentional for us to gather in the beginning because we just had a passion for painting," said Leng. "After 20 years, now it seems that letting things take their own course is the purest and most genuine way to do art," he said.
"Leng decorated the house himself, with furniture and interior decorations all in an old European style in order to arouse a classical salon feeling," said Guo, a professor at Guangzhou Academy of Fine Arts. "Leng sometimes even offers free food and accommodation to young homeless artists."
Guo's realism oil painting "Long Night" at the exhibition is a portrait of a Russian soldier, inspired by Pavel Korchagin, the protagonist of Nikolai Ostrovsky's socialist realist novel "How the Steel Was Tempered" (1936).
Guo, 63, said that he was influenced by the novel's heroism in his youth, and one day when he was teaching, he noticed that a Ukrainian female student had a similar eye expression to the Korchagin he imagined. Then he spent five months (including two hours a day with the model) working on the painting. "The model met my demands to express the Russian soldier's melancholy and beset mind in wartime. The hawthorn in the painting represents the soldier's hidden desire for love."
Despite the tranquility that overflows from "Long Night," there lies a subtle yet powerful emotional drive that affects viewers. Guo blends classical realism with symbolism and his portrait paintings bring life and vitality into the room, captivating viewers and transferring engaging energy. "In early days, we painted models the way they originally looked like, but later we designed the models' appearance according to our purpose," said Guo.
The exhibition also showcases landscape and portrait paintings by Liu, Zhu and Shi, as well as paintings depicting Leng's studio.
"Sketch for painting is like air for life. Nowadays, many students paint from photos rather than from real objects. We appreciate that painting appeared before photograph; otherwise we would have no chance to deeply experience the relationship between nature and us. Sketch is a magical thing because the subject's objectivity rendered on a painting depends on the painter's mental and physical state and observation. In the meantime, painting from real objects is also an important process of coloring, the soul of an oil painting," said Leng.
Dates: Until April 26
Venue: J Space and C2, North Area, OCT-LOFT, Nanshan District (南山区华侨城创意园北区君瑞汇和C2展厅)
Metro: Line 2 to Qiaocheng North Station (侨城北站), Exit B