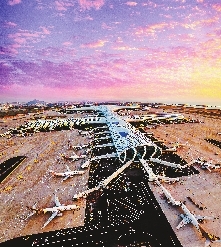 TAKING the district's economic, industrial, communal and environmental conditions into consideration, the Bao'an government has drawn a blueprint outlining its future development.
Three belts
Dynamic Seacoast Area, Golden Business Area, and Ecological Leisure Area
Dynamic Seacoast Area
With a 45-kilometer coastline, the western part of Bao'an is a charming sunny bay area.
Two centers
Bao'an CBD and Airport New Town
Bao'an CBD
With a total area of 15.5 square kilometers, the area is a rising business center in Shenzhen. Playing a significant role in deepening international cooperation, it also functions as a comprehensive service center and manufacturing service center in the Pearl River Delta. The area welcomes company headquarters, financial service firms, R&D institutes, high-end commercial service firms, logistics, culture and creative industry companies.
Airport New Town
Occupying 45 square kilometers, Airport New Town will be home to new landmarks such as the Shenzhen International Convention and Exhibition Center (SICEC), the Shenzhen International Conference Center and the Shenzhen Science and Technology Museum. The two phases of the SICEC will occupy an area of nearly 1.5 million square meters, making it the world's largest exhibition center upon completion.
Two zones
A national innovation demonstration zone and Guangdong Intelligent Manufacturing Pilot Zone
Two towns
Advanced Manufacturing Industry Town, and Science and Technology Innovative Industry Town
Occupying 35.9 square kilometers and 30.86 square kilometers respectively, the two towns are aiming to become home to high-end industrial clusters with complete facilities and services.
One valley
The Shiyan Health, Science and Technology Green Valley
(Li Dan)