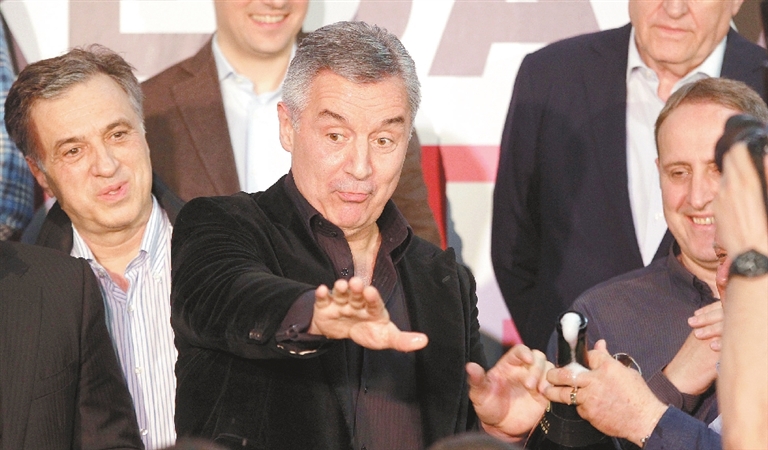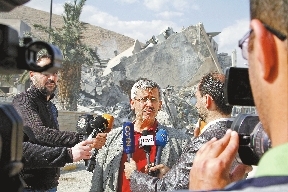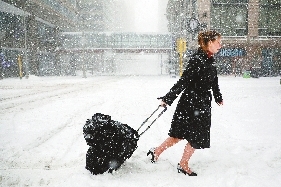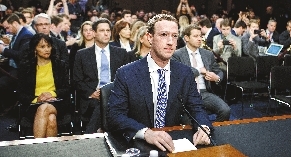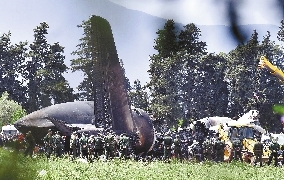 Djukanovic commits to EU path after sweeping vote in Montenegro
Montenegro's ruling party leader Milo Djukanovic waves to his supporters after results showed he had won the preliminary* presidential elections on Sunday. He pledged to keep the small Balkan country firmly on path with the European Union after it joined NATO last year in defiance of Russia. Djukanovic won 54 percent of the ballots, securing a victory in the first round and avoiding a runoff*.SD-Agencies
UN fails to condemn US-led raids on Syria
The U.S.-led allied attacks on alleged chemical weapons facilities in Syria sparked an emergency U.N. Security Council meeting on Saturday and a failed vote on a resolution condemning the raids.
The rare Saturday session was convened at Russian request only about 14 hours after the U.S., British and French bombardment* began.
The allies attacked Syria following reports of alleged chemical weapons use in Douma near the capital city of Damascus on April 7, despite the arrival of a Fact-Finding Mission in Damascus on Saturday.
Storm blasts central US
A storm system stretching from the Gulf Coast to the Great Lakes has buffeted* the central U.S. with heavy snow, tornadoes*, rain and hail, forcing flight cancellations, creating treacherous* road conditions and killing at least three people, including a sleeping 2-year-old Louisiana girl.
Nearly 470 flights were canceled at Minneapolis-St. Paul International Airport on Saturday before crews were able to open one runway shortly after 10 p.m., according to a spokesman. Blizzard conditions also forced the airport in South Dakota's biggest city, Sioux Falls, to remain closed for a second straight day. .
Facebook 'in arms race with Russia'
Facebook chief Mark Zuckerberg accepted personal responsibility on April 10 for the leak of data on tens of millions of its users, while warning of an "arms race" against Russian disinformation* during a high-stakes* hearing with U.S. lawmakers.
In his first formal congressional appearance, Zuckerberg answered questions for nearly five hours as he sought to quell the storm over privacy and security lapses* at the social media giant that have angered lawmakers and users.
Algerian plane crash kills over 250
The death toll from an Algerian military plane that crashed on April 11 in the military airport of Boufarik, 30 km south of Algiers, has risen to 257, local media reported.
The Ilyushin I-76 troop carrier belonging to the Algerian Air Force crashed in the perimeter of the military airbase of Boufarik.
Ennahar private television channel said the plane was carrying more than 250 troops and had departed for the southwest province of Bechar, before crashing in an unpopulated green field near the airport.
Abe may quit 'in June'
Japanese Prime Minister Shinzo Abe, plagued by suspected cronyism* scandals and cover-ups and sliding ratings, will likely step down in June, former leader Junichiro Koizumi was quoted as saying on Monday.
A survey by broadcaster Nippon TV released on Sunday showed Abe's support had sunk to 26.7 percent, the lowest since the conservative lawmaker took office in December 2012. (SD-Agencies)