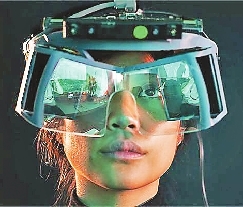 Leap Motion的新型AR设备
You may soon be able to get your hands on a pair of affordable augmented reality (AR*) glasses.
Hand-tracking company Leap Motion has unveiled Project North Star, a prototype* headset that superimposes* computer-generated images onto the world around you. The futuristic* AR headset places two high-quality gigantic screens in front of the user's eyes, enabling them to see virtual* graphics in real life. North Star can also track gestures, turning your hand into a virtual wearable.
The AR system is outfitted with two 1600x1400 translucent* LCD* (liquid crystal display) displays that run at a quick 120 frames per second, creating a 100-degree field of view and a hand-tracking sensor that creates a 180-degree field of view.
Leap Motion said the headset is just a prototype design, but the firm is opening the hardware and software up to developers next week.
The hope is that by making North Star open source, savvy developers can experiment with the technology and, potentially, build it at scale for less than US$100.
The glasses are also equipped with Leap Motion's advanced gesture tracking technology that let you grab and touch virtual objects with your hands and without any controllers, wands or other devices.
(SD-Agencies)