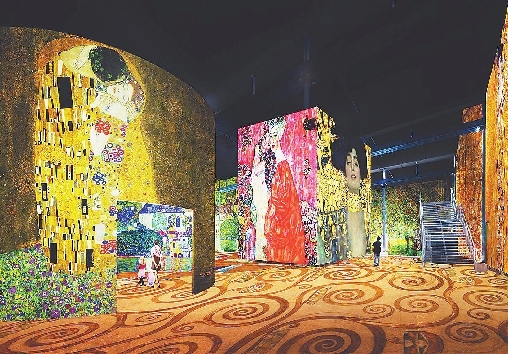 光线工坊,犹如行走在画卷中
A new museum in Paris is letting visitors experience art from the inside: guests can walk around inside blown-up versions of famous paintings.
The museum is called "Atelier des Lumières" (English: Studio of Lights), and it features enlarged depictions of popular artwork that cover walls and even sprawl to the floors and ceilings. The immersive experience is managed by Culturespaces company.
The museum's first exhibit features work by Gustav Klimt and Friedensreich Hundertwasser. Both artists were born in Vienna. Klimt was a dressmaker and artist during the 19th century who created portraits and landscapes. Hundertwasser became prominent a number of decades after Klimt did, and his artwork features abstract shapes and bright colors.
A curated soundtrack plays at the museum while visitors explore the artwork.
A statement on the opening of the museum said it comes on the heels of the success of a different establishment, called "Carrières de Lumières," also managed by Culturespaces.
Culturespaces emphasized the importance of "digital exhibitions," and said that the Studio of Lights museum will be home to "monumental" immersive exhibitions.
(SD-Agencies)