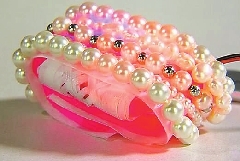 可自动报警的镯子
Researchers at University of Alabama at Birmingham in the United States has developed a bracelet to combat sexual assault*.
The device monitors wearers' vital signs* and can pick up on changes that would signal being under attack. The smart bracelet, still in the prototype stage, alerts a predetermined list of contacts and the police if it senses that the wearer is being harmed. Additionally, it emits a loud alarm and is equipped with red strobe lights* meant to scare away the attacker or get the attention of others in the vicinity*.
Professor Ragib Hasan is overseeing the project led by master's student Jayun Patel who designed the new product. The bracelet relies on machine learning and sensors to detect signs of assault. It bracelet houses pressure sensors, GPS capabilities and microphones, among other tools.
The prototype costs less than US$40.(SD-Agencies)The smart bracelet.