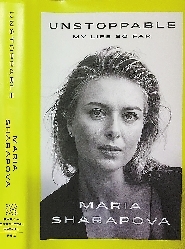 《莎拉波娃自传:势不可挡》
In her book, Maria Sharapova quotes Nelson Mandela, "Do not judge me by my successes. Judge me by how many times I fell down and got back up again."
Penned with the help of journalist Rich Cohen, Sharapova's book is an illuminating* account of her life so far. The memoir begins and ends with its author's experience of a doping debacle*, and though most of these chapters concern life before her suspension, the incident haunts her book. This is the bildungsroman* of a controversial champion, a portrait of the athlete as an uncommonly driven young woman.
It's also a rags-to-riches* tale. "This is a story about sacrifice, what you have to give up," the athlete writes. "But it's also just the story of a girl and her father and their crazy adventure."
Sharapova was born to a monomaniacal father who taught himself tennis, then imposed* it on his child. Leaving his wife in Russia, Yuri Sharapov bundled his daughter, age 7, off to Florida with US$700 in his pocket and a conviction that they could crash an elite tennis academy and catapult* the family into the misty American Dream.
In America, the young athlete bounced from tennis academy to tennis academy as her father, a non-English speaker with no connections in the States, struggled to find work, shelter, and, most pressingly, court time for his daughter.
Set apart from her peers by circumstance, talent, and intense focus — "That was my gift. Not strength or speed. Stamina*. I never got bored. Whatever I was doing, I could keep doing it forever" — Sharapova describes a lonely childhood.
The book is available at online bookstores like jd.com.
(SD-Agencies)