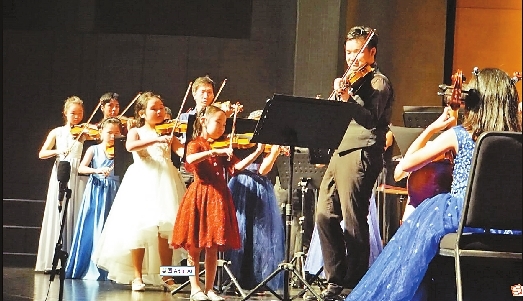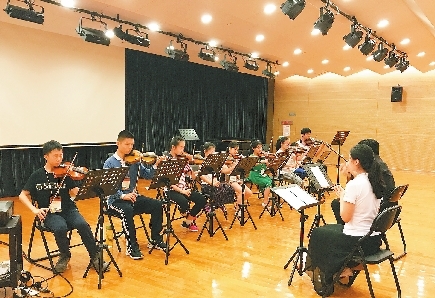 深圳保利剧院音乐夏令营将启动
Debra Li
debra_lidan@163.com
FOR beginners stuck in a bottleneck and wishing to rekindle their love for stringed instruments, learning under masters and practicing with peers at a summer camp that culminates into an opportunity to perform publicly for a live audience could be just the remedy.
Shenzhen Poly Theater is organizing such a summer camp from July 21 to 26 in association with the New World Chamber Players, a group of young musicians who are studying or have graduated from prestigious music colleges in Europe and the United States.
The majority of the 23 tutors are from the Conservatory of Music, University of Cincinnati, where Professor Kurt Sassmannshaus is known for his integrated pre-collegiate program for string players. The son of German violin pedagogue Egon Sassmannshaus, his teaching methods provide a fun way for beginners to learn basic violin, viola, cello and bass. Other tutors are from such conservatories as the Peabody Institute of the Johns Hopkins University, Yale University, Boston Conservatory and Royal Danish Academy of Music.
During the six-day camp, one-on-one instruction will be combined with group study, rehearsing by part and rehearsing with the whole chamber orchestra.
There will also be mini concerts and lectures for the 60 trainees and their parents on topics such as how to balance one's workload between musical practice and the general school curriculum.
"Most people who learn music don't end up pursuing a musician's career," said tutor Lin Haoli, a doctoral student at the Conservatory of Music, University of Cincinnati. "Those who stick to music are guided by their enthusiasm."
Lin said he hopes the summer camp will help trainees find their passion for music. "Many children begin to learn strings with a single tutor and aren't given the chance to collaborate with peers, which can be fun," he said.
Tutor Chai Congcong, a University of Kansas doctoral graduate who is now teaching at Wuhan Conservatory of Music, agrees with Lin. "I am a pianist. I perform a lot of chamber music besides solos. I also work with orchestras on concerti. It's important for students to practice collaborative music from an early stage. A career in music has multiple possibilities apart from being a soloist."
On the evening of July 26, the New World Chamber players will perform a concert by the name of "The Carnival of the Animals in Summer" at Shenzhen Poly Theater. The program will include a titular suite by the French Romantic composer Camille Saint-Saens as well as other beloved animal-themed pieces and Vivaldi's "Summer." Trainees at the summer camp will participate in one or two pieces at the show.
"We will rearrange the music for each individual trainee in accordance with their capability," Lin said.
Those who are above age 4 and have taken regular classes in strings for at least half a year can apply. Candidates are required to submit a short video of their musical practice to szblyjzx@163.com before June 1.