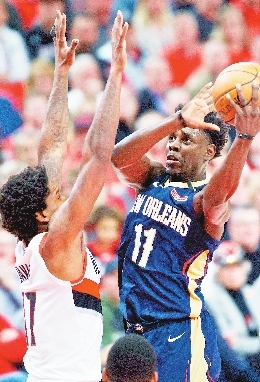 JRUE HOLIDAY had a career playoff-high 33 points and the New Orleans Pelicans took a 2-0 lead in their first-round playoff series against the Portland Trail Blazers with a 111-102 victory on Tuesday night.
Rajon Rondo had 16 points, 10 rebounds and nine assists for the Pelicans, who host the Blazers on Thursday as the series shifts to New Orleans. Anthony Davis added 22 points and 13 rebounds.
CJ McCollum, who struggled with backcourt teammate Damian Lillard in the opener, rebounded with 22 points to lead the Blazers.
Portland trailed by as many as 11 points in the third quarter but Lillard hit a 3-pointer and added a free throw to tie the game at 93 with 7:31 left. Holiday's pull-up jumper and Rondo's driving layup kept the Blazers from pulling ahead.
Maurice Harkless dunked and Al-Farouq Aminu had a layup to re-tie the game at 97. After Holiday's hook shot, Harkless made a 3-pointer to give Portland a 100-99 lead. (SD-Agencies)