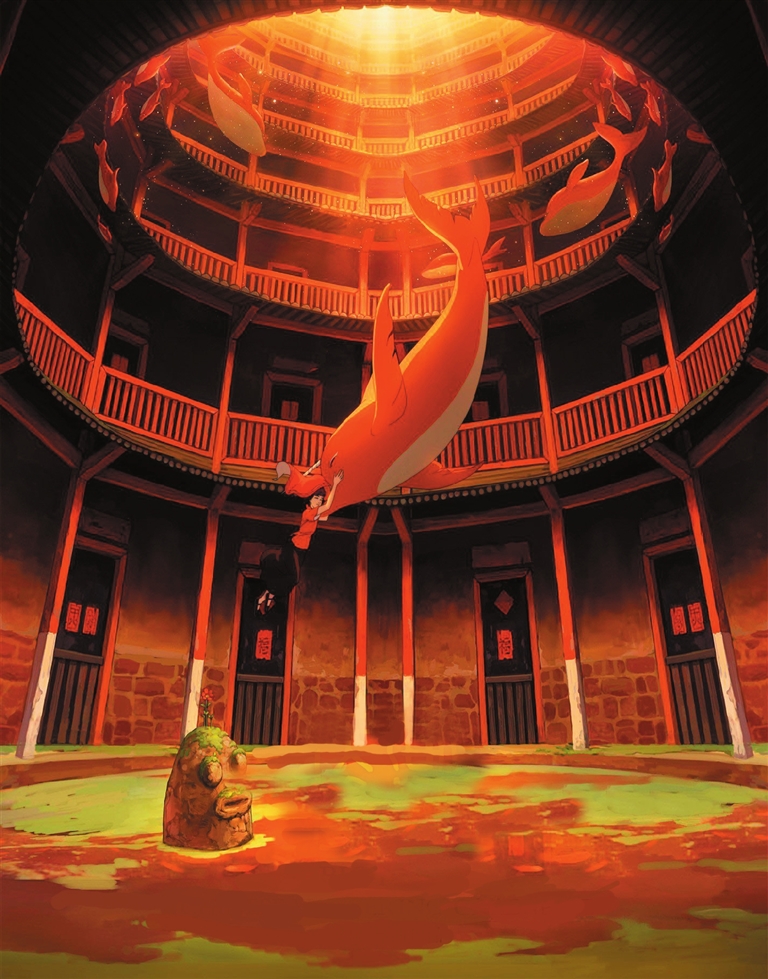 CHINESE animated fantasy "Big Fish & Begonia" arrived in North American theaters two years after its release in China, receiving highly positive reviews from critics and moviegoers for its distinctive characters, stunning images and unique Oriental cultural charm.
The PG-13-rated film opened in select North American cities April 6 in limited release and a wider release April 11. Shout! Studios and Funimation Films released the film in North America both with an English dub as well as in its original Mandarin with English subtitles.
"Big Fish & Begonia" was released in China in 2016 and brought in a massive U$89 million over the course of is theatrical run. The film attracted audience with abundant Chinese traditional cultural elements and mythology.
Directed by Liang Xuan and Zhang Chun, the film is based on ancient Chinese legends and follows the tale of love, sacrifice and grand adventure of a 16-year-year girl named Chun who lives in a magical world beyond the human realm.
"'Big Fish & Begonia' is much fresher and more individual than most Hollywood studio cartoons," said columnist for Film Comment magazine Michael Sragow.
"It doesn't follow formula. Even the best characters act on impulse or in confusing ways. And visually it mixes many styles, including 2-D and 3-D techniques," Sragow told Xinhua.
"The directors don't overexplain everything. They create a fascinating mythology," he added.
"Big Fish & Begonia" remains a well-received film, scoring a 83 percent fresh rating on Rotten Tomatoes to date.
Inspired by Chinese culture, including such '60s animated classics as "Havoc in Heaven" and the ancient Taoist text, "Wandering at Ease in the Zhuangzi," Liang and Zhang embraced Chinese folklore with "Big Fish & Begonia." It took 12 years for the directors to make their pet project. They co-founded B&T Studio in 2003 and a year later Liang had a dream that inspired the Flash-animated short version of "Big Fish & Begonia." They developed the feature, creating test footage between 2007 and 2009, but with no faith in Chinese animation, they found no investors. The project languished until a crowdsourcing campaign led to investment from Enlight Media in 2013.
"The title is nothing special, but 'Big Fish and Begonia' is a stunning animated feature, a big step forward for the Chinese industry," wrote Kenneth Turan, a film critic for the Los Angeles Times, on his twitter page.
"It is visually dazzling and made very much in the Miyazaki mode, including an intrepid young heroine and the cultural specificity that characterizes works like the Oscar-winning 'Spirited Away.'" wrote Turan in his review.
Another American film critic, Robert Abele, also praised the film as "a swell of myth, nature, adolescent turbulence and fantasy intrigue that impresses more often than it organically dazzles, and yet succeeds mostly because of its beating heart."
"Chinese animation makes a confident play for art and relevance with 'Big Fish & Begonia,'" he wrote on the Wrap, an entertainment and media news website.
"'Big Fish & Begonia' is like nothing you've seen before ... With its sweeping, swirling visuals, this Chinese animated film isn't bound by any real logic, so it's best to watch it as though riding a wave and just flow with the story," wrote film critic Kristen Page-Kirby for The Washington Post.
"Big Fish & Begonia" also won applause in theaters.
"The film showcases the charm of Chinese traditional culture, especially the cultural images with local characteristics of the southern province of Fujian," said Lily Wang, who came to see the film in an AMC theater in Monterey Park, one of the majority Asian American cities in Los Angeles County.
"I could watch the film online video sites because it was released almost two years ago in China. But I want to enjoy its stunning visuals in a theater," she told Xinhua.
In the first quarter of 2018, China's box office overtook North America to become the biggest in the world for the first time, as Chinese films, such as "Wolf Warrior II" and "Operation Red Sea," perform stronger and stronger in recent years. While Hollywood studios are heading to China, Chinese filmmakers are trying to create films that appeal to a worldwide audience.
"I think it's possible for a movie like 'Big Fish & Begonia' to be a hit comparable to Miyazaki's 'Spirited Away,' which grossed over US$10 million in the United States. But I don't know whether it will open in enough theaters or receive enough support to reach that goal," said Sragow.
"Let's not forget that the live-action epic 'Crouching Tiger, Hidden Dragon,' also in Mandarin, was a blockbuster in America and around the world," he noted.
However, China's current animation industry is still in the initial stages of recovery, according to director Zhang, which means that the lack of talent remains a serious problem. "It might be easy for some other markets to make high-quality animated films, but we can't find enough suitable people to complete our work in China," he said. "There's no perfect system for the production process. The whole process of filmmaking is done sort of by moving forward while feeling things out." (Xinhua)