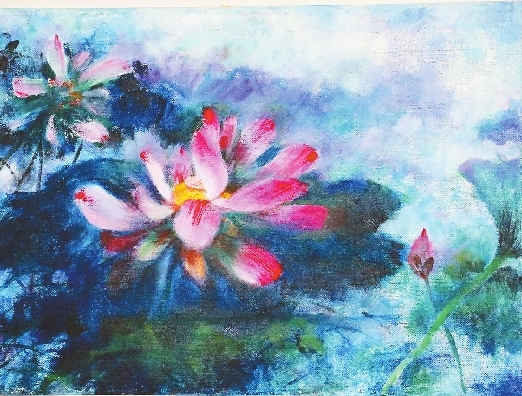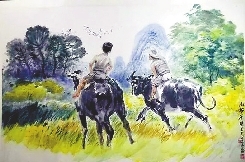 COWHERDS idly dotting in the countryside, galloping horses, blooming lotus flowers in the summer — all these usual elements of beautiful country scenery were featured in 77-year-old Deng Zhigang's paintings which were exhibited from April 4 to 18 at the Cultural and Activity Center of Fubao Subdistrict in Futian.
More than 70 works of Deng were on display, mainly depicting bumper harvests in the countryside, beautiful countryside scenery or people in his hometown. His lifelike paintings won thumbs-ups from many senior painters and painters of the Shenzhen Senior Photographers' Association and the Art Center of Papercutting Association; many visitors even said that they wanted to buy his works.
One may think that paintings full of life and vigor must be completed by a happy and feisty old man who often goes to the countryside and paints from nature. However, Deng has little in common with this. Born in Guangzhou in 1941, Deng was handicapped after suffering from poliomyelitis when he was 5. Despite this, he stood up for himself through his painting.
Each day as a child he limped to school, but he was mentored by famous painters, which laid a solid foundation for his painting career in future years. His painting skills evolved, and he was soon admitted to a local academy of fine arts. Sadly, he had to forego this opportunity because it was beyond his family's financial means. Instead, he would eventually work for Guangzhou Culture Park and Guangzhou Slide Studio as an art designer. While he created posters and slides, he also reached to the countryside to paint from nature. His works include watercolor, opaque watercolor, ink-wash, Chinese color paintings and oil paintings.
Deng's paintings feature smooth strokes, solid colors and realistic subjects. He is also bold in adopting both Chinese and Western painting techniques to achieve better artistic effects.(Yang Mei)