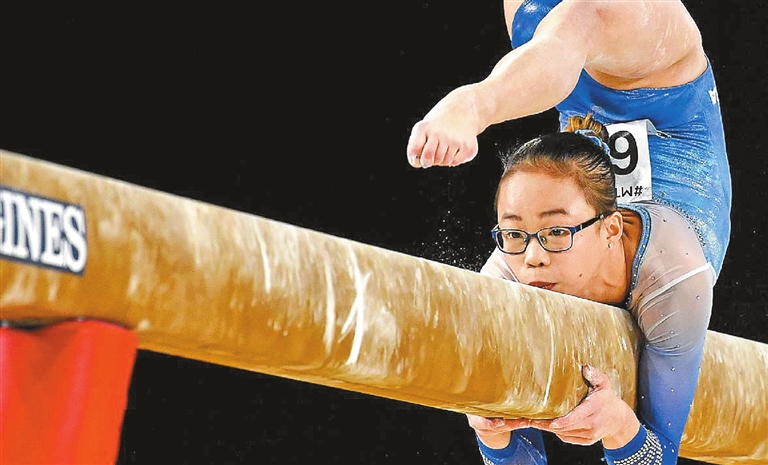 摩根·赫德: 从弃婴到世界体操冠军
If you haven't yet heard the name Morgan Hurd, it's likely that over the past year, you've seen something about her.
She's that gymnast who competes wearing glasses and braces, the one that Harry Potter author J.K. Rowling tweeted at and called "a real-life hero in glasses" after learning the self-described Potter junkie had won the women's world all-around title.
Sixteen-year–old Hurd of the United States shot to fame by clinching the title in the women's all-around event at the World Gymnastics Championships in October 2017 in Montreal, Quebec.
The victory landed Hurd on an exclusive eight-woman list of U.S. world champions that includes Olympic gold medalists Simone Biles, Shawn Johnson and Shannon Miller, and lit up her Twitter mentions.
"It is all surreal," Hurd says. "I was so honored just to be competing at the World [Gymnastics Championship] and to win it was the most amazing feeling in the world. It's been slowly setting in."
Hurd was born on July 18, 2001 in Wuzhou, China's Guangxi Zhuang Autonomous Region and was adopted as a toddler by American Sherri Hurd, and soon after moved to Middletown in Delaware where she grew up.
Her mother has said in numerous interviews that Morgan tried a number of sports as a youngster such as soccer and ice skating, but she kept returning to gymnastics because she was small and nimble.
She first started gymnastics at age 3 and has spent the last 13 years honing her skills and technique to become one of the world's premier gymnasts.
Since middle school, Hurd has had her mind buried in books. Today, while other kids her age are saturated in social media, Hurd prefers the sanctity of stories. "I know it's rare," she admits. "I think I'm the only person at my gym who actually likes to read."
"I'll Give You the Sun" by Jandy Nelson and "Everything, Everything" and "The Sun Is Also a Star" by Nicola Yoon are three of her favorites. She recently started "Turtles All the Way Down" by "Fault in Our Stars" (another favorite) author John Green and she has read every volume of "Harry Potter" more than once.
"I like that I can forget about what's happening in the real world and transfer to a different one," Hurd says.
She's a massive fan of "Hamilton" the musical, loves to lip sync to its songs and has no interest in getting her driver's license.
Although she's only a junior, she's already committed to the University of Florida, where she hopes to compete on the gymnastics team after fulfilling her Olympic dreams in Tokyo. She's a glasses-wearing, book-reading, self-possessed world champion who travels with two backup pairs of glasses and is keenly aware of her status as a real-life heroine to aspiring young gymnasts and awkward teens alike.
"No one is born perfect," Hurd says. "You will have imperfections. I hope more people see me and try to do sports or gymnastics with glasses. Nothing should stop you from doing something you are passionate about." (SD-Agencies)