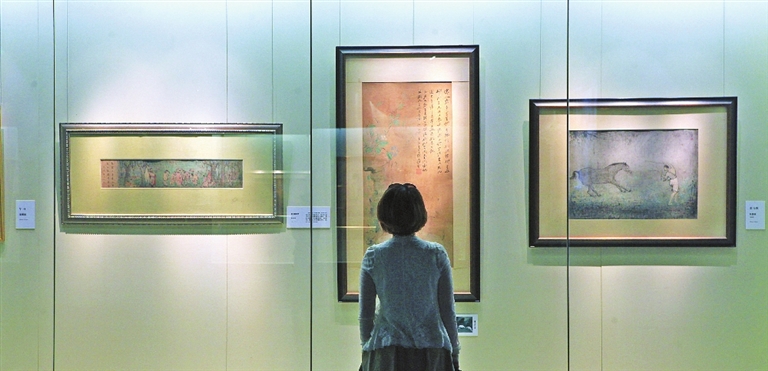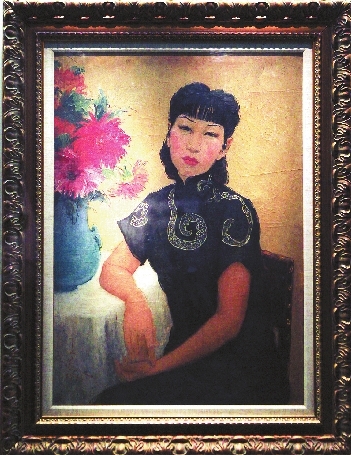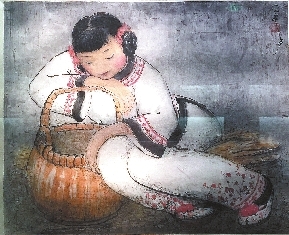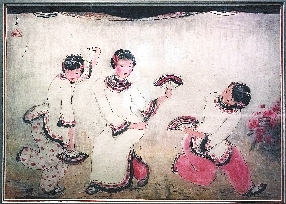 Cao Zhen
caozhen0806@126.com
VIBRANT portrait, landscape and still life paintings created by legendary Chinese artist Pan Yuliang (1895-1977) are on display at the Shenzhen Museum, giving insight into the strong woman's dreams, longings and unique artistic outlook.
Renowned for her self-portraits and nudes, Pan was one of the first Chinese artists to study modern art and a pioneer of Chinese modern art. "Pan's paintings, whether of lush flower petals or lithely curved female bodies, are full of vitality. Her colors are bold and contrasting, her strokes are powerful, clean-cut and decisive, and her technique is very mature. There's a famous comment by Chinese revolutionary and thinker Chen Duxiu, saying that Pan's paintings were a fusion of Eastern and Western arts," said Guo Xuelei, vice curator of the Shenzhen Museum.
On loan from Anhui Museum in China's Hefei City, capital of Anhui Province, the 110 exhibited items are divided into four categories: oil paintings, color ink paintings, line drawings and prints. Since Pan received Western art education and spent most of her life in France, her oil paintings have a strong influence of Impressionism and Fauvism. The brushstrokes in her color ink paintings are accurate and vigorous, showing the painter's unconstrained and undisguised personality. However, on her self-portraits, Pan looks somber and melancholy and some critics speculated that it was due to her loneliness abroad and the oppression she faced in her childhood.
Pan was born Chen Xiuqing in Yangzhou, Jiangsu Province and was renamed Zhang Yuliang when adopted by her maternal uncle after the early passing of her parents. When she was 14, her uncle sold her into a brothel where she was raised to become a prostitute. She attracted the attention of Pan Zanhua, a wealthy customs official, who bought her freedom. He married her as his concubine and she adopted his name as her surname.
Pan Zanhua helped her get an education and in 1918, Pan Yuliang was admitted to Shanghai Art School. After graduating from there, she went to Lyon and Paris for further study, also sponsored by Pan Zanhua, who remained in China. In 1925, she won the prestigious Rome Scholarship to study at the Accademia di Belle Arti in Italy.
In 1926, Pan Yuliang won the gold prize for her works at the Roman International Art Exhibition. In 1929, Chinese painter Liu Haisu invited her to teach at the Shanghai Art School and she returned to China, where she gave five solo exhibitions from 1929 to 1936. Pan was acclaimed to be the first Chinese female artist to paint in a Western style.
But her nude paintings were severely criticized by conservative critics, so Pan left Shanghai for France again in 1937 and joined the faculty of the école des Beaux Arts. Her works were exhibited internationally, and in the West, her art was acclaimed and evolved in the midst of the flux of conflicting dichotomies between East and West, tradition and modernity, male chauvinism and emerging feminism co-existed.
Pan lived alone in Paris for the next 40 years, while her husband remained in China until his death in 1959. The couple had no biological children.
Pan passed away in 1977 in Paris and, according to her will, her 4,000-plus paintings were returned to Anhui, her husband's hometown.
"Anhui Museum now has a collection of 4,000 Pan Yuliang works. When her works were shipped back here, Pan Zanhua's descendants only chose to take a few paintings and the National Art Museum of China in Beijing also selected some items," said Zhang Zhongyun, vice curator of Anhui Museum.
Her life as a pioneering artist and strong woman has been portrayed in films such as "A Soul Haunted by Painting." Last month, Pan's oil painting "Baigneuse" (1958) was sold for HK$27,684,500 (US$3,527,559), more than 4.5 times its pre-sale estimate by Sotheby's in Hong Kong.
Dates: Until July 22, closed Mondays
Hours: 10 a.m.-6 p.m.
Venue: Shenzhen Museum, Block A, Civic Center, Futian District (福田区市民中心A区深圳博物馆)
Metro: Line 2 or 4 to Civic Center Station (市民中心站), Exit B