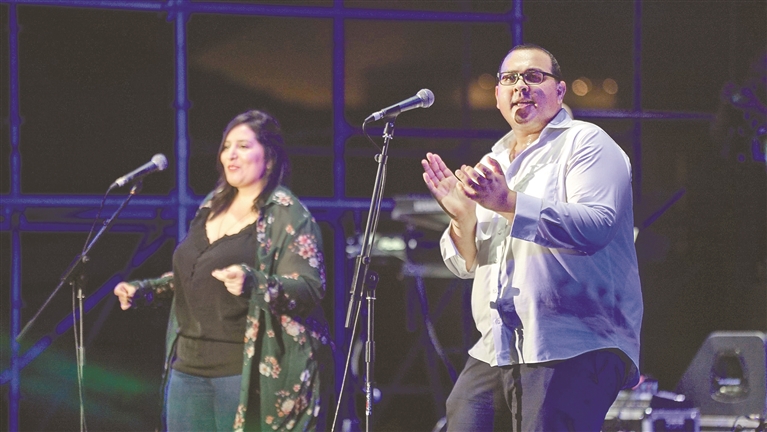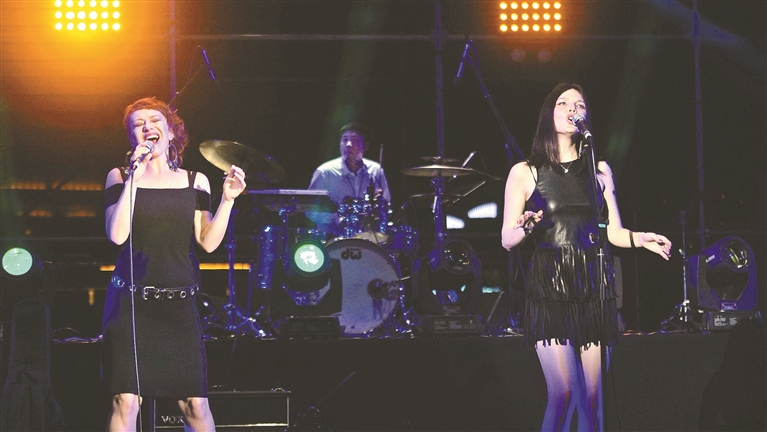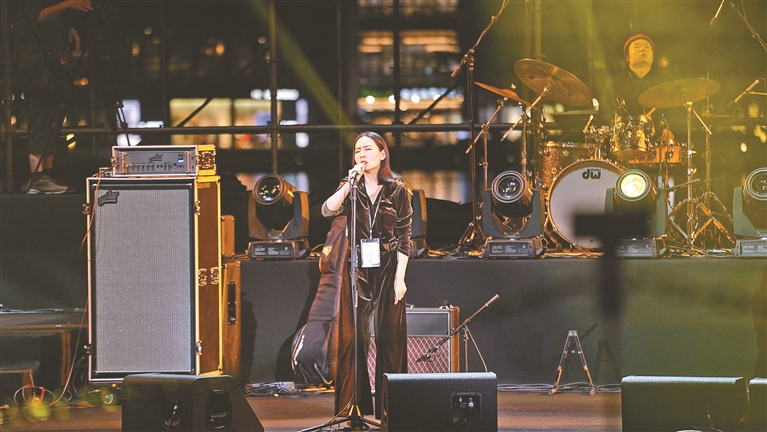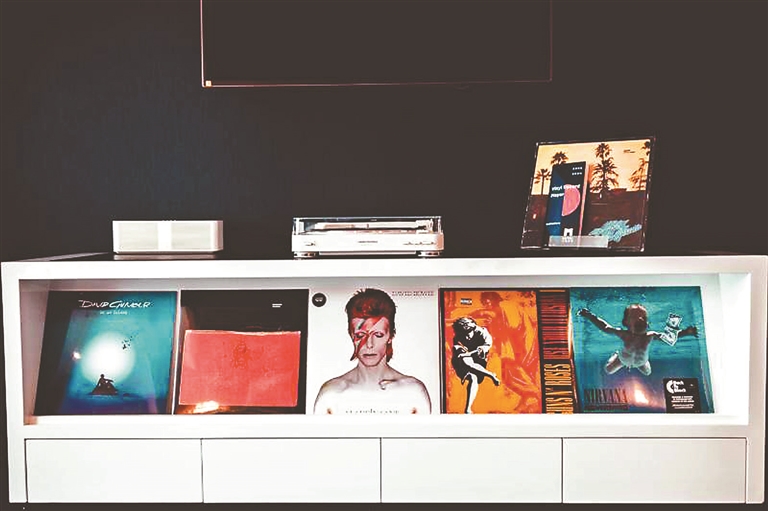 Chen Xiaochun
654789759@qq.com
THREE international bands rocked Nanshan audiences at the DeSOUND concert, an important part of this year's Nanshan Pop Festival organized by the district publicity authorities. The show on the waterfront stage at OCT Bay on April 22 featured GrooveLee, Take 5 and Anna & Agaya.
According to the organizer, many excellent musicians from different countries live in Shenzhen.
"These musicians, in love with the city, have come to call Shenzhen their home. To bring good music to the public, we organized the concert so that people could enjoy music in a relaxing atmosphere," said a member of the organizer.
The bands represented different musical genres, including pop, jazz, rock and roll and electronic music. GrooveLee is a band that has been active in South China in recent years.
The band mainly plays funk and soul music. Its members include singer Kasumi from Japan, saxophone players Craig Dickinson and Marco Del Valle G, trumpeter David Batchelor, drummer Joe Lung, bass player Rafael Ramirez, keyboard player Jai Chen, guitarist Solomon Fong and percussionist Michael Maradei.
Take 5 blends jazz with neo-soul music. It keeps experimenting to inject new energy into old music genres. The band consists of singer Valery, bass player Sam, keyboard player Bao Anuo, drummer Huang Jiyue and saxophone player Lin Kanshi.
"A band requires the cooperation of all members. Everyone needs to contribute their inspiration," said Valery, adding that the venue is very good and has high-quality lighting and sound equipment. "I hope they organize more events like this, and I hope the Nanshan Pop Festival becomes a hit in the future."
Huang introduced that jazz is an inclusive music. "All pop music today is more or less related to jazz. It is a music genre that is constantly developing. Everyone in the band contributes and injects new elements to our jazz. We have a lot of fun together," said Huang.
Sam, the bassist, said he started with heavy metal. "I used to play metal and it was fun. But it's hard to find friends to start a band. So I converted to jazz. It's something useful and interesting. It's a job that I have passion for," he said.
The band Anna & Agaya is named after its two female leads, Anna and Agaya. They hope to provide the audience with a unique audio and visual experience.
The pop festival, held between April 8 and 29, will also feature a Vinyl week. Here are some of the highlights of the week.
Highlights
Silent Disco X Vinyl House
Time: 7 p.m.-9 p.m., April 28
Venue: Music Theme Hall 1933, 1932 and 1931, MHOTEL, Software Industry Base, Nanshan District
Silent Disco afterparty
Time: Starting from 9:30 p.m., April 28
Venue: 8/F, A, Building 2, Software Industry Base, Xuefu Road, Nanshan District
Vinyl Cover Design exhibition
Time: Until April 29
Venue: Art Gallery, 19/F, M HOTEL
"Live Music," by photographer Li Lewei
Time: Until April 29
Venue: T Star, A, Building 2, Software Industry Base, Xuefu Road, Nanshan District; Art Gallery, 20/F, M HOTEL
Vinyl Market
Time: 2 p.m.-9 p.m., April 28
2 p.m.-7 p.m., April 29
Venue: Space Corridor, 19/F, M HOTEL
Vinyl forum
Time: 3 p.m.-4 p.m.
Venue: 8/F, A, Building 2, Software Industry Base, Xuefu Road, Nanshan District
(All listed events open free to the public, with no reservation needed.)