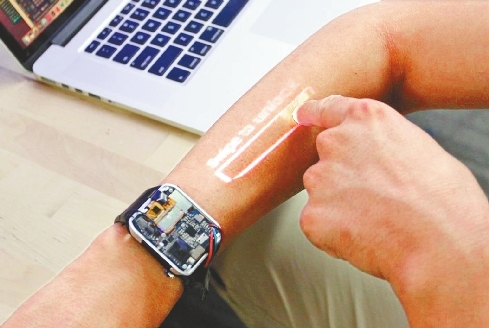 Researchers at Carnegie Mellon University have debuted a smartwatch that has a built-in projector, turning the wearer's arm or hand into a touchscreen.
The LumiWatch is the first of its kind to use a fully-functional laser projector and sensor array and with 40 square centimeters of interactive surface, it's roughly five times larger than a standard smartwatch.
The wearable device supports an Android* operating system, and can connect to Bluetooth and WiFi.
The LumiWatch's creators posted a video of the prototype* smartwatch in action, demonstrating the swipe-to-unlock mechanism and the continuous 2D finger-tracking abilities.
The video shows the user unlocking the watch, opening apps, even editing photographs right on his arm.
If it eventually retails, the device is expected to cost around US$600, cheaper than many current smartwatches on the market.
The 15-lumen* projection laser is bright enough so that the screen can be seen outside during the day.
The LumiWatch contains a lithium-ion* battery that can last an entire day with occasional use.(SD-Agencies)