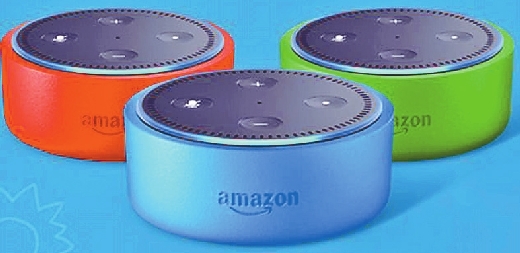 Amazon has released its first Echo device for kids.
Called "Echo Dot Kids Edition," it looks just like Amazon's other Alexa-enabled devices, but includes new parental controls, child-friendly content and a range of colorful protective cases.
The Echo Dot Kids Edition starts at US$80 and Amazon says with it, Alexa becomes a "kid-friendly DJ, comedian and storyteller who's always getting smarter."
If a child breaks an Echo Dot, Amazon says parents can return it and they'll replace it for free.
The Echo Dot Kids Edition can play age-appropriate* music and audiobooks, give child-specific answers to questions and comes with a free one-year subscription* to Amazon FreeTime Unlimited. The subscription service provides access to more than 10,000 kinds of kid-friendly content like videos, books, TV shows and movies.
The Unlimited version comes free for two months with an Echo Dot Kids Edition, but otherwise costs Prime subscribers US$3.
The firm said the basic version of FreeTime can be added to any Echo, Echo Dot or Echo Plus at no cost.
The free version of FreeTime comes with a range of parental control features like time limits, the ability to filter explicit songs, review your kid's Alexa activity and an educational Q&A, which lets kids ask Alexa questions about topics like science, math, spelling and vocabulary. Another smart FreeTime feature called "Magic Word" rewards kids when they're polite and use "please" when they talk to Alexa.
The Echo Dot Kids Edition is packaged as an intelligent, round-the-clock* digital assistant for kids that gives "peace of mind" for parents, the firm said. Amazon says Alexa is also able to "speak kid," so that she provides age-appropriate suggestions whenever a kid says "Alexa, I'm bored." She can also tell knock-knock jokes and play kid-appropriate songs.
With FreeTime for Alexa, parents can call, message and DropIn on Alexa devices to tell kids when their dinner is ready, the firm said. Additionally, the extended features on FreeTime Unlimited give parents greater access to their child's activity on the Alexa app.
Using the Parent Dashboard feature, parents can see what kinds of content their kids are engaging in, such as books, videos, apps or Web, broken down by time spent on each.(SD-Agencies)