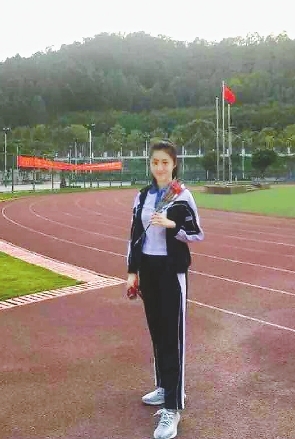 The Central Academy of Drama recently released the list of the students who passed the school's 2018 arts exam. Hu Lianxin, a student from Longgang High School Affiliated to Central China Normal University, ranked first for the drama, film and television acting major among female examinees, and second among all examinees, with a score of 94.4 points.
Apart from the Central Academy of Drama, Hu has also received offers from Beijing Film Academy, Shenzhen University and Nanjing University of the Arts. Among the four universities where she registered for arts test, she ranks in the top 10 in three. She has returned to Shenzhen to prepare for the culture course exam in June.
According to Hu's high school teacher, she loves art when she was a child and has been learning piano, painting and dancing since childhood. She won a bronze medal at the Shanghai Super Baby Model Competition when she was in kindergarten.
Hu is an outgoing girl with many creative ideas. She is in charge of her high school class' cultural and arts affairs.
The Central Academy of Drama plans to enroll 598 students for its six undergraduate majors and has received a record 51,698 applications, representing a 40-percent increase over the previous year, which means only one out of every 86 examinees will be admitted. The acting department has always been the most popular major in the university. In 2018, a total of 9,758 candidates signed up for the exam, however the ratio of candidates to enrolled students was 195 to 1.
(Yang Mei)