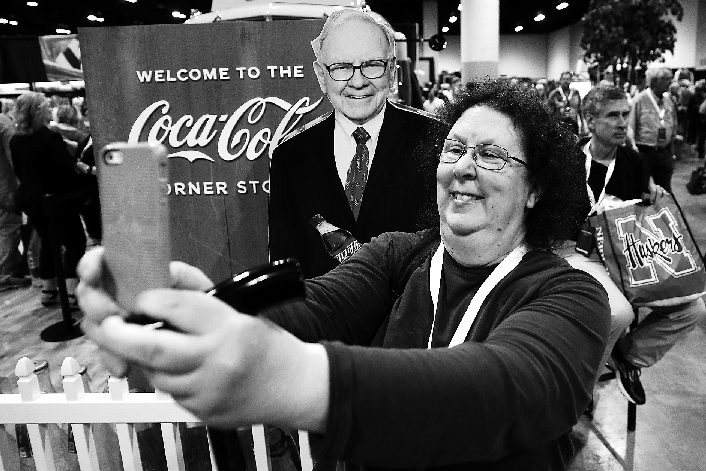 U.S. billionaire Warren Buffett has been buying a boatload of Apple Inc. shares and Saturday suggested he would buy even more shares at the right price.
At Berkshire Hathaway Inc.'s annual shareholder meeting, Buffett credited Apple with developing "extremely sticky" products to which consumers become attached and endorsed Apple's decision to buy back its own stock, saying it was the technology company's most productive use of cash.
"We would love to see Apple go down in price," Buffett said. Berkshire is now Apple's third-largest shareholder, behind Vanguard Group and BlackRock Inc.
"I'm delighted to see them repurchasing shares," Buffett said, just two days after he revealed having bought 75 million additional Apple shares, and four days after Apple said it may repurchase US$100 billion of stock. At the end of 2017, Berkshire had owned 165.3 million shares.
"I love the idea of having our 5 percent, or whatever it is, maybe grow to 6 or 7 percent without our laying out a dime."
And Buffett described it as a mistake that he never thought Alphabet Inc.'s Google and Amazon.com Inc. made sense as investments for Berkshire.
Buffett, 87, and his longtime partner and fellow billionaire Charlie Munger, 94, also took pointed questions on China, Wells Fargo & Co., guns, health care and their investment choices from shareholders, journalists and analysts at the more-than-six-hour meeting in Omaha, Nebraska.
The questions also elicited views on politics from the "Oracle of Omaha" and Munger.
Munger said U.S. corporate tax cuts were good for shareholders but cautioned that the long-term effects of economic choices could be hard to gauge.
And Buffett predicted "bad endings" for cryptocurrencies, such as bitcoin, and said long-term U.S. government bonds were a terrible investment because inflation would consume their returns.
Buffett defended Wells Fargo and its chief executive, Tim Sloan, when asked when Berkshire would ditch the bank, one of its largest common stock holdings. Many shareholders applauded the question.
Buffett said the bank had committed the "cardinal sin" of incentivizing employees into "kind of crazy conduct." U.S. regulators imposed US$1 billion in fines last month over lending abuses.
But he maintained that the bank was not "inferior," as an investment or morally, to its main rivals.
Shortly before the meeting, Berkshire ended its more than year-long stretch of falling operating profit, while a new accounting rule caused the conglomerate chaired by Buffett to suffer an overall net loss. Buffett said the net results were not representative of the business. (SD-Agencies)